Item:Cannuilan Campaign Mark
Official Game Entry
Cannuilan Campaign Mark

Barter: Skirmish

This mark is awarded to those fighting in the Cannuilan campaign, mainly for completing Encounters. This campaign consists of Breaching the Necromancer's Gate, Assault on the Ringwraiths' Lair, and Battle in the Tower.

These can be redeemed for cosmetic rewards at various Skirmish vendors, or redeemed for Skirmish Marks at the Skirmish Exchange vendor.
Player Entry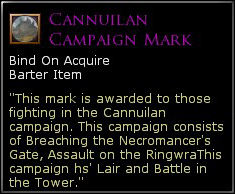 This Mark can be dropped from encounters, lieutenants, and bosses within the following Skirmishes:
This mark can be used to purchase a variety of different Soldier Cosmetic Items from the Cosmetics Vendors within Skirmish Camps, or bartered for a set amount of Skirmish Points.
You need JavaScript enabled for viewing comments