Add Lottery Widget
Player Entry
Step 1: Log into my.lotro.com
If you haven't already, log into http://my.lotro.com/. From there, click on the "Home" link to go to http://my.lotro.com/home.
Step 2: Open the widget list
Click on the "more widgets" tab in the right corner of the navigation bar.

Known Issue: This button might not show up in Internet Explorer. Try turning compatibility mode off or use a different browser to add the widget to your page.
Step 3: Add the lottery widget to your homepage
Click on the icon for the lottery widget. You should see a loading graphic appear; eventually, that graphic will be replaced with the lottery widget.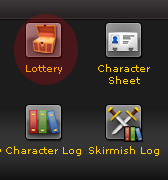 Step 4: Profit!
Once you have the widget on your page, you can click on the "Enter to Win" graphic to be taken to the main lottery page. If Sapience has any lotteries running, you will be able to enter your eligible characters. It also serves as the master list of all your current entries and winnings.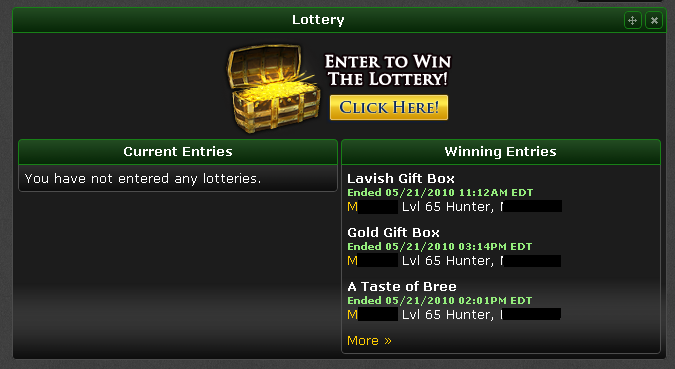 Get to the point!
For the impatient, you can bookmark http://my.lotro.com/home/lottery; if you are logged in, this will bring up the page listed in Step 4.
Where are my characters?!?
If the lottery widget/page and your character list widget show no characters, you may need to switch to a secondary subscription. At the top of the page, look to the right of the "Logged in as <your name>"; if you see a drop-down arrow there, mouse over it and select the other subscription listed. This will switch you to that subscription and should have your characters listed and allow them to enter any running lotteries they are eligible for.

"You have no characters eligible for the current lotteries"
You receive this message if one of these conditions are true:
You have no characters eligible for any of the currently running lotteries.
You need to switch to an alternate subscription.
There are no currently running lotteries.

For #2, see the previous section.
For #1, your characters are being filtered out because of the rules associated with the currently running lotteries. While we usually have lotteries running for all levels/types, you might hit that brief window where ones your characters are available have not yet started. Check back later.
For #3, well... this only happens if Sapience isn't around to dangle carrots over your heads. While the message is true from a certain point of view, it should read in this case "There are no lotteries currently active". We'll patch that up Soon™.

Good luck!
You need JavaScript enabled for viewing comments