Area:Northern High Pass
Official Game Entry

Quests in Northern High Pass
The vast expanse of the Misty Mountains divides the western and eastern halves of Middle-earth, making travel and commerce between those lands difficult. The few roads across the Mountains are fraught with danger. The first is to travel all the way around the southern end of the Misty Mountains, through the Gap of Rohan, but it is rumoured that Orcs now range freely there. The second path is through the Redhorn Gate, about halfway between Rivendell and the Gap of Rohan, but the stirring of the Shadow in the East has caused even that pass to become an abode of evil.
Neighbouring the vale of Imladris is the third passage, the High Pass. This was once the most-used pass in the North, until the goblins began to stir and giants took up residence in the heights. Now travellers in the High Pass are often assailed by raiders out of Goblin-town or crushed by boulders in games of catch between giants.
The High Pass will be familiar to fans of J.R.R. Tolkien?s The Hobbit as the pass where Thorin and Company were forced to take shelter from thunderstorms and stone-throwing giants outside the ?back door? to Goblin-town. This is only one of several landmarks in The Lord of the Rings Online?: Shadows of Angmar? that was created directly from the books.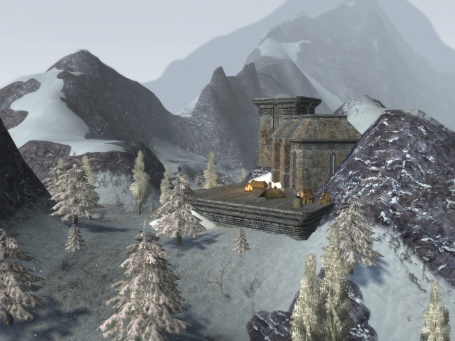 High Pass
Quick Facts
The pass of the Misty Mountains that lay above Rivendell; it was here that Bilbo Baggins and the Dwarves were captured by goblins as they journeyed eastwards on the Quest of Erebor.
Player Entry