Area:The Midgewater Marshes
Official Game Entry

Area: The Midgewater Marshes
Quests in The Midgewater Marshes
As the Great East Road leads out of Bree toward the Weather Hills in eastern Eriador, travelers will become aware of a gradual falling of the land, where rolling hills and pleasant grasslands give way to a formidable flat expanse of treacherous bogs opening away northward from the roadway. This region is known as the Midgewater Marshes, an area difficult to navigate even for the most seasoned adventurers familiar with this land. The ground here is damp and dangerous, in places giving way completely to deep pools of mud and stagnant water. Further adding to the difficulties in travel, the Midgewater Marshes are home to swarming flies, midges, and neekerbreekers. Legends tell of still darker creatures lurking amongst the deep pools and stands of moss-covered trees that crowd the landscape, and it is said that marauding bands of corrupted Men and vile goblins also frequent these lands, but on what errand none can say.
One may indeed wonder if it would not be wisest to simply stay on the Great East Road and bypass the Midgewater Marshes altogether, thus avoiding such unpleasantness. To do so, however, would be to overlook quests and treasures rich in the history of Eriador, a history dating back ten centuries and more, waiting to be uncovered. Long ago, the kingdoms of Rhudaur and Arthedain, two of the great kingdoms of Arnor, claimed as their own these lands near the Weather Hills and the great Tower of Amon Sûl (also known as Weathertop). The Witch-king of Angmar, from his dark throne in Carn Dûm, also laid claim to these lands in those days. Great battles were fought in this region, the ruins of which still stand as a testament to the Men who sacrificed all to ensure victory over the evil forces from the north.
Though exploration through the ever-shifting marshes is treacherous to say the least, the abandoned outposts of Arnor and the remains of once-great fortresses and other impressive structures can still be found amongst the fields of reeds and tall grasses, holding their long-forgotten secrets for the bravest of adventures to discover.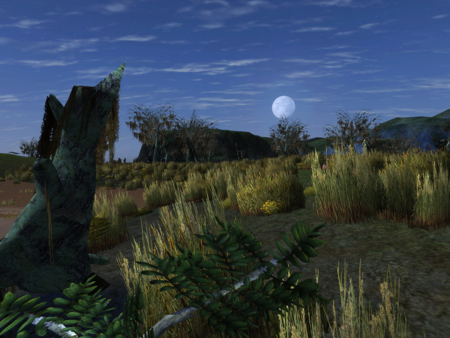 Midgewater Marshes
Quick Facts
The marshland east of the Chetwood
A fly-infested region of marshland in central Eriador, that lay between the Chetwood to the west and the Weather Hills to the east. Midgewater was a morass of shifting pools that took its name from the swarms of midges that filled the air. In the central regions of the marshes dwelt the Neekerbreekers: night-creatures of cricket-kind.
In an attempt to avoid the East-West Road, Aragorn led Frodo and his companions through the marshes on their journey from Bree. Travelling slowly through the treacherous quagmire, their crossing took two days from the western to the eastern edge.
Player Entry