Crafting Facilities
Player Entry
Crafting facilities are objects used to execute crafting recipes. Generally they provide an essential part in the crafting process (the other parts being tools and ingredients) - e.g. a Forge is needed to smelt ore into ingots or a Vegetable Farmland is needed to grow vegetables such as carrot. They are immovable and with the exception of Campfire players have to seek them out in order to craft (Campfires can be made ad hoc using Campfire Kits). Crafting facilities are often found in so-called crafting centers.
NOTE: Some recipes - such as Apple Pie Filling - require no crafting facility and can be executed anywhere
In order to craft a player needs to approach a crafting facility - a buff appears under the vitals signaling the player is indeed near, he then needs to click on it (or hit 'T' - by default) which brings up the Crafting Panel through which the crafting is done.
Superior Crafting Facilities
There are superior version of crafting facilities which are needed for crafting recipes of Tier III and higher, visually they are no different from the "common" facilities. Access to the them - i.e. a passive trait that enables you to use them - is gated behind quests (such as Quest:Amber for Othrikar that gives rewards you with access to Superior Forges). Also access to some of the crafting centers which sport superior facilities is gated behind reputation - for example in order to access Superior Workbench inside the Blue Stone Garrison in Thorin's Hall, Ered Luin you need to have at least Acquaintance standing with the Dwarves of Thorin's Hall.
NOTE: A Superior facility can be used to execute recipes that require the "common" variant.
List of Facilities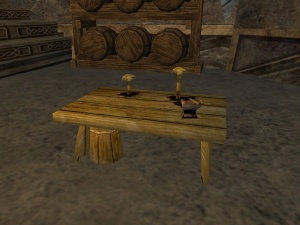 more detailed info about the facilities is on their own pages
You need JavaScript enabled for viewing comments