Deed:The Best Defence
Official Game Entry
The Best Defence

The first four pages of this book can be found on enemies scattered across Angmar, Eregion, and Moria. The last four pages of this book can be found on enemies scattered across Forochel, Moria, and the Misty Mountains.

This book was written as a primer in the Guardian's art some time in the middle of the Third Age, during the difficult period after the fall of Khazad-dûm. At that time, Durin's Folk were scattered and greatly reduced in number, and the Guardian's role took on a much greater importance as the threat of goblins and Orcs to dwarf-settlements beneath the roots of the world became more and more common. The dwarves often settled for building powerful strongholds designed to make the approach to their cities, impervious to assault, manning them with skilled and powerful guardians to ensure that none would pass unchallenged.

While the book itself is common enough, the owner of this copy seems to have scribbled copious notes within the margins of the pages -- notes containing an experience and insight to the art that even at a glance exceeds that of the original author. Unfortunately, the copy is worn and tattered, and a number of pages are missing. Perhaps someone well-versed in the art could provide you with some insight as to the identity of the mysterious scribbler and where his remaining notes could be found?
Player Entry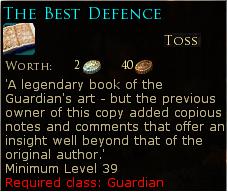 You need JavaScript enabled for viewing comments