Guide to Dol Guldur Instance Cluster
Player Entry
Original content created by community member:
Brushfire

After putting together a guide to this cluster of instances, I decided to share it with the rest of the LOTRO community. This is my first published guide, so forgive me for not being perfect or missing something. With that, please enjoy my guide to Sword Halls, Warg Pens, Dungeons of Dul Guldur and Sammath Gul.
--Brushfire 14:37, 17 December 2009 (EST)
Sword Halls (3-man)
See also Sword Halls
Arena style instance with 3 bosses: Sorcerer (left door) - Summons fire. Keep moving to avoid or drop a Captain Banner. Morroval (right door) - Summons bats and heals (interrupts!). Olog Hai (middle door) - AOE dps, and does a huge aoe knockback (avoidable, stay in the blood stain left of the entrance). All three bosses have corruptions that give them +15% incoming damage (meaning you do more damage to them), that when removed, provide buffs to the group. The Sorcerer gives a heal, the morroval gives a power heal, and the olog hai gives a bonus to your damage mitigation. If you're at a tough part of the fight, it's best to removal the corruptions. If you're at an easy part, keep them on to speed up killing.
Easy Mode Guide
Easy mode is just that, easy. You fight useless adds (2 pulls before each boss, each with 3 mobs, they drop the quest items), and one boss at a time (Sorcerer -> Morroval -> Olog Hai).
REWARD - 3 Medallions of Dul Guldur and 3 Chests full of runes and relics
Hard Mode Guide
In Hard Mode (or Challenge Mode) you must defeat all 3 bosses at once (adds spawn after about 10 minutes, meaning you need to finish before then). The key to this is a good group combination. Healer, Tank, DPS is the best combo. The tank can tank two of the mobs (Olog Hai, and one other), as the DPS kills the remaining one (group make up dictates which you kill first). With a champ, guardian and minstrel, it was easier to kill the morroval first, so I could stop it from healing, and keep the bats of the mini. With champ, captain and minstrel killing the sorcerer first was easier since it's fire is the most annoying, and it has the lowest hp. It should be noted that the morroval MUST be interrupted, or kept on the opposite side of the room from the boss being dps'ed.
For those that really excel at their class having the Guard/Champ/Warden tanking all three mobs is very doable. Using the corruptions early on to help off-set the damage the tank will take helps tremendously.
REWARD - 4 Medallions of Dul Guldur (+3 from daily quest) and 1 Chest full of runes and relics
Warg Pens (3-man)
See also Warg Pens
A straightforward instance. Most of the instance is trash pulls, with 2 bosses. The first is a simple tank and spank with adds. Aoe dps helps here. The 2nd boss is a bit more intensive. He hits extremely hard, and the healer will be strained to keep up someone who is not a tank (moreso if you're doing hard mode).
Easy Mode Guide
Not to Eat. Simple. Kill everything, don't worry about wargs eating meat (actually, stunning them as they run to eat meat, would speed things up).
REWARD - (3-4?) Medallions of Dul Guldur
Hard Mode Guide
To Eat. This is a bit more challenging. Every lump of meat sitting around on the ground must be consumed in order to complete hard mode. Wargs eat meat at around 1000 hp, so don't dps them further than that, and give them time to eat. The only real challenge here is the final boss. Have your tank hold the boss, the healer keeps everyone up, and your dps makes sure all five pieces of meat are consumed. This can be a pain, specifically if a warg does not want to eat.
Tanking the final boss in hard mode
Walk into the final boss's room. Stop, look just ahead and to your left and notice that really wide pillar. If you attemp to kite the boss, you're going to get hounding fear and he's going to catch you and rip you a new one if you aren't prepared. So, use the pillar. Start running around one way, then turn to look at him on the other side. As you run around, since you're faster than he is (unless you have hounding fear), you'll eventually start to lap him (catch up to him). When this happens, he's going to turn and start coming ta you the other way. Eventually, you'll find an equilibrium point, where you're both sort of shimmying back and forth around the pole.
Stay out of the fire -- going near it will remove the boss's frost DoT, but it'll also burn you, so use it judiciously. Use a pot on the poison DoT (or, if a hunter is your DPSer, have him remove poison from you). If you get a wound, use a wound pot (or, if you have a lore-master or rune-keeper, have him remove/prevent the wound).
REWARD - 6 Medallions of Dul Guldur (+3 from daily quest)
Dungeons of DG (3-man)
See also Dungeons of Dol Guldur
The Dungeons instance is both a puzzle instance and a combat instance. The dungeon is divided into 3 wings (West, North and East). In each wing, there are prisoners to be rescued (West - 2, North - 3, East - 4). Your goal is to rescue prisoners from each wing. The more prisoners you rescue, the better your reward.
Two dynamics make this challenging. The first is the fact that once one prisoner exits the wing, the doors to that wing begin to close and after about 90 seconds, they slam shut, and you're locked out from that wing. The second is the pathing Olog-Hai that cannot be targeted or attacked. If you get too close to them, you will be 'captured' and thrown into a jail cell at the beginning of the instance. The door takes about a minute to open (long induction) and all of the Guldur Guards will respawn, so you want to avoid this (Note: if you are captured 3 times, the wing is sealed, no matter whether you rescue prisoners or not). The Olog-Hai can be put to sleep for a limited amount of time using Nightshade Barrels (from the book 9 version of this dungeon, if you've done that). If the Olog-Hai finds a prisoner, it will throw you in jail, and the prisoner will be sent to a new cell and must be searched for again.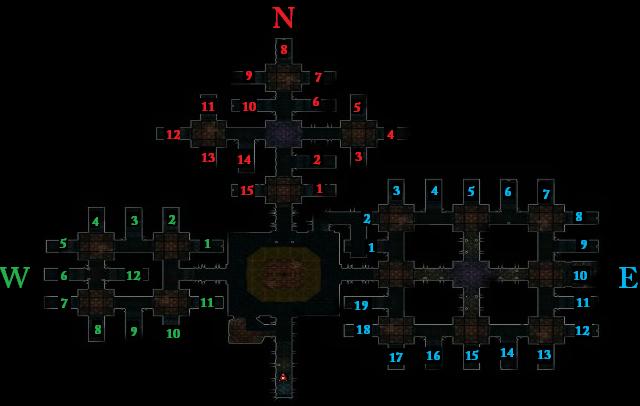 The basic strategy is that you should move between empty prisoner cells to avoid the Olog-Hai. Rooms with elves that must be freed should be avoided until you're ready to free all at once. Nightshade Barrels can be used to put the Olog-Hai to sleep, and this is good in some cases, but bad in others (as it can mess up timing, making it harder to get all the Olog-Hai asleep at once).
When Prisoners escape, they will run only when one of your group is around, and will take the straightest path (always around the edge though, never through the middle, ie East Wing).
Rewards
0-2 Prisoners Rescued - 1 Medallion of Dul Guldur and one chest of runes/relics.
3-6 Prisoners Rescued - 6 Medallions of Dul Guldur and one chest of runes/relics.
7-9 Prisoners Rescued - 8 Medallions of Dul Guldur and one chest of runes/relics.
Note - I'm unsure what the lower bound on the normal mode and upper bound on the easy mode rewards are.
West Wing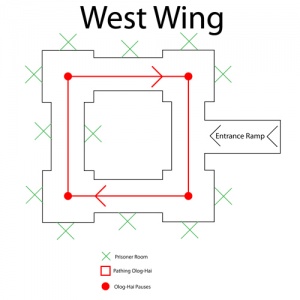 Prisoners = 2 :: Olog-Hai = 1
The West wing is the easy wing. The one Olog-Hai moves in a clockwise square around the wing. He stops in the corners. Start on the two sides closest to the door, and work your way to the back. Avoid the Guldur guard pulls if you find the prisoners in early rooms (simply to save time).
North Wing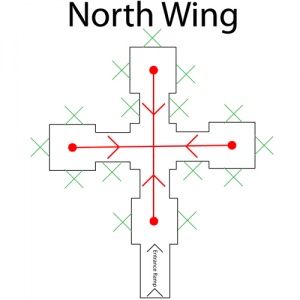 Prisoners = 3 :: Olog-Hai = 2
A straightforward wing. Two Olog-Hai make a cross and path back and forth. Once you've cleared the trash mobs, it's best to place a barrel in the center point, putting both to sleep, and therefore not requiring more than 1 barrel to have the whole area open to you. Remember to use the empty prisoner rooms as safe zones from the Olog-Hai. The rooms close to the center (if empty of prisoners) are perfect for placing barrels in the center and putting the Olog-Hai to sleep.
East Wing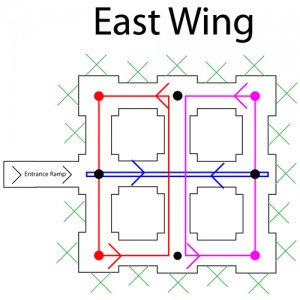 Prisoners = 4 :: Olog-Hai = 3
NOTE: DO NOT USE NIGHTSHADE ANYWHERE BUT THE CENTER POINT!! Doing so will mess up the Olog-Hai's pathing times, and making putting all 3 to sleep a much much bigger hassle than it should be.
This is the difficult wing. There are 4 prisoners spread out in one of 19 rooms. There are around 15 Guldur Guards around this wing, and having them respawn will set you back on time in a major way. The only way to handle this wing is to clear the entire area of guards (opening rooms looking for elves along the way - make a map of locations for later: It Helps!).
Once you've got everything cleared, use your map to help determine where you need people to begin getting prisoners. You should always start on the east wall (as those take the longest, and you can get others on the way). If there is a prisoner in the center room on the east wall, it should be noted that he will run counterclockwise(or has for me twice).
Barrel Placement and Elf Rescue Explanation: I like to put my group members at the center points of the north and south wall so they can help me monitor the two Olog-Hai that make circles. I will stand at the entrance watching the Olog-Hai that goes down the center. When he is at the far wall, and the other two are just at the rooms on the far north and south (in the center), the barrel should be placed in the center. At this time your two other group members go get prisoners (starting on the eastern wall and working clockwise in the south, and counterclockwise in the north). If your timing is good, you can get all 4 within a few seconds of each other, no problem.
Boss: The Warden
Once you've freed a prisoner or more from each wing, and all the wings have been sealed, the warden will come down into the center room. During his fight, he will target the elven prisoners with an attack that will one shot them. The key to preventing their deaths is the new distributed damage system. Once they are targeted, you must have all the elves gather around the person being targeted. All the prisoners will share the damage of the attack, and you wont lose a prisoner (your healer will need to spend some time topping all the npcs off). Since some of the prisoners are ranged or healer types, it's best to use the layout of the room to help bring all of the elves in to one tight space to avoid the distributed damage hitting one of the archers that is far away and killing him. The pillars in the room work great for this. The rest of the fight is a dps race. The longer he stays up, the more distributed damage he does, the more prisoners you will lose. A great tip for the healers is that the green circle under the elves indicates their health, as it turns yellow/orange to red means they need heals.

Additional Strategy: An alternate strategy that seems to have good results is using the jail cell (near the entrance) to bring the boss and all the npcs into one tight area (thereby reducing the damage taken for his distributed damage attack). To do this, you must use the lever right as the fight starts, and pull him into the cell (he can walk through the door)), then have your dps spend the 1 minute induction opening the door a 2nd time to let in any straggling elves (although at least some elves can also walk through the door). Have your tank put the boss in the corner, and use the layout of the room to your advantage, having your healer LOS when he attempts to fear the players (allowing the healer to continue healing elves).
Sammath Gul (6-man)
See also Sammath Gul
The 6-man instance in the Dol Guldur instance cluster. This instance is one of the only 2 places in the world where a Symbol of Celebrimbor drops, which is required to craft level 65 2nd ages. Group make up is important. Due to the dynamics of the bosses and trash pulls, I would highly advise having diverse group. Having only 4 different classes for a run really seems to slow groups down and made trash pulls more difficult.
Trash Pulls
Here is a list of the different mobs you will encounter and their specific tricks. Tips to beating them also included (at no extra cost).
BEWARE BONE PILES!!
The randomly scattered bone piles MUST be avoided. If approached, they will spawn nemesis ghosts that take a few minutes to burn down (the ghosts continually summon skeletons until at least three skeletons are present, at which point they stop summoning until they have less than three skeletons). This summon is interruptable, though the induction time is 5s and thus will need a champion, warden, or guard/burg with legendary item reducing their interrupts to 5s.
Because they do not need to be fought (except in the Demafaer fight) and can add significant dps to existing fights if they're popped in the middle of the fight, it's best to simply learn their locations and avoid them compltely.
Beware sharp corners, and tops of stairs.

Brutes
These guys absorb all the damage being taken by those around them, while taking only 10% of direct damage done to them. The key is to focus dps on the add(s) to kill the brute as quickly as possible, then just kill the adds. A Champion really helps when there is more than 1 add, as a champion does "double" damage to the brute with aoes to the adds. A guardian, warden, or captain really helps here as well to keep all the aggro off the healer.

Brutes have a frontal AoE attack, so it's important that the tank or whoever has aggro turns the brute away from the rest of the group, and that the rest of the group pays attention and fights on the brute's back.
Brutes pop their absorb skill about a second after getting aggro. The skill has a fairly large radius but only hits mobs in the Brute's line of sight, so it is important to aggro them next to other mobs so that you can get that absorb skill to spread to the other mobs (otherwise, you end up with a virtually-invulnerable brute for about a minute).
The absorb skill does disappear after about a minute, and stays down for about 30 seconds, during which time you can dps the brute as normal.
Important note for brute aggro: most aggro generation is applied in the form of damage, and since the brute suffers damage from other mobs rather than damage done to himself, it can be hard to get his aggro. Guards and Wardens should focus on doing aggro/damage to the other mobs and using AoE threat generation (such as Litany or Conviction, respectively). For a Guard, this means Vexing Blow is your bread and butter, especially when traited for AoE Vexing and Litany Master.
Most brutes have a 3-tiered corruption that significantly increases their DPS. The first tier, that they start out with, is +50% dps. When one corruption is removed, they go down to +25% dps. When that corruption is removed, they go down to +10% dps. Finally, when that corruption is removed, they simply do their normal level of dps.
Guards
Guards are simply melee-dps-dealers with no special attacks. As with brutes, they have a 3-tiered corruption to increase their damage. Guards are single-target dpsers only.
Sorcerers
They have two special moves. The first, which they apply to the person who triggers them and which they keep using now and then until you kill them, is a stackable debuff that primarily lowers incoming healing. The second is a ten-second force-cower that they will apply to a member of the group at random every 20-30 seconds. It is recommended that a non-tank innitiate pulls involving Sorcerers so that the tank doesn't end up with 2-3 incoming healing debuffs. Using a mez, fear, or stun on the Soecerer right after it enters combat will also stop it from using the debuff. While not as immediately threatening as Lore-masters, Sorcerers can still cause problems if they cause the tank or healer to cower at the wrong time. If you trust your group's ability to keep Lore-masters interrupted, it might be a good idea to CC or stun-lock and burn down Sorcerers.
Loremasters
They do an induction knockback. It's very important that this be interrupted (due to something further down the list). Have your champion or burglar focus on dpsing the Loremaster first, for this reason.
Loremasters also have a root ability. This ability can be interrupted, but it does not have an induction circle and can thus be hard to see.
Summoners
These guys do an uninterruptable summon. The only way to prevent the summon is to mez, stun, fear or start a conjunction on them. Champions, Burglars and Loremasters are very helpful here.
It should also be noted that Summoners start their first summons immediately upon getting aggro. If the battle is started with the summoner getting mezzed, stunned, or feared before they can get aggro, then they will immediately start summoning once that mez/stun/fear is cleared. As a result, it's best to aggro the summoner first before using a mez/stun/fear on it. A champion using traited Battle-frenzy and starting off with a Sound the Attack (3-second AoE stun) is a good way to start pulls with multiple summoners. The summoners use their summoning ability once every minute, starting with the moment they are able to initiate the first summons. It's also advisable to avoid using any kind of stun on the summoner between summons, as the stun could cause the summoner to become immune to stuns and thus unable to be interrupted when summoning.
Boss One: Urchir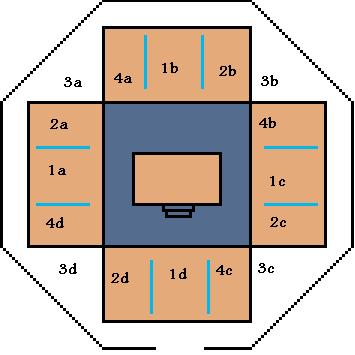 Urchir is fire-based undead boss. Fire attacks will not damage him; however, anything that works against undead (such as the undead title or the Loremaster's ward against undead) will. This room has an altar in the center and grates in each cardinal direction from it (numbers 1, 2, and 4, all letters). At the diagonals between the grates, there is solid ground (number 3, all letters).

When you enter the room (at the door below 1d), there will be groups of mobs at 3d, 3c, 1a, and 1c. It's generally advisable to clear these out first. Groups at 3d and 3c contain a loremaster and a sorcerer. The group at 1a is a loremaster, sorcerer, and guard. Group 1c is a loremaster, sorcerer, and brute. Many groups simply ignore the group at 1c - if you fight the boss at 3d, you generally won't have to deal with the group at 1c at all and can walk on to the next room once the boss is dead.

If at any time you step onto the middle platform (colored blue/grey on the image above), you will immediately activate the boss. Until that time, he is asleep, and you can walk on any other section of the room. Because of the ease with which you can start the boss fight while still clearing adds, it's generally advisable not to go chasing loremasters who run away. Anyone who does so must pay close attention to where he or she is standing.

Once the boss starts, the grates around the room have a chance to blast fire out of them, doing huge damage to anyone nearby. You do not have to be standing directly on top of a grate to get hit. For instance, if fire spawns out of the left grate, and you're tanking the boss at 3d, anyone on 3d but within a meter of the edge (toward 4d) will get hit with the fire blast. As a result, it's advisable to tank Urchir right in the middle of the platform at 3d.

He does frontal-AoEs with his default melee attack (so stay behind him if you're not the main tank). This guy is easily fervour tanked. He has 2 problematic abilties. The first is "Will you bring doom to your friends, [playername]?". This puts a green eye above the affected character's name. If you get this, run away from your group - everyone you're close to will get stunned and if anyone gets stunned Urchir will temporarily lock aggro onto you. It's generally advisable to run around the outside edge of the room, avoiding the grates, to get away from the group. As soon as the green eye clears, you can come back to the group. Urchir will never target whoever has aggro with the green eye, so make sure the tank gets aggro right away and keeps it. The second is "Can you handle the burn, <playername>?". With this, he will launch a distributed-damage attack on that player. If alone, that person will take huge damage and likely die. It's best to have everyone group up around the boss on that (instead of everyone trying to find the person he called out). This distributed damage attack is fire-based, so RKs can prevent the initial damage with their group fire prevention skill. As soon as the fire hits, each person will also get a DoT wound applied. RKs can also prevent this wound with their wound prevention skill. Loremasters can clear the wound (if you want to try to clear it as soon as it is applied, start using your skill when Urchir throws his hands up in the air), or each person can use a wound pot.

This boss has 3 phases. Phase 1 is from full health to around 135k health, then Phase 2 until around 60k health, and then Phase 3 until the boss is dead. Each time the boss hits another Phase, he wipes all buffs and cancels everything he's doing. This means that A: Players will need to reapply debuffs such as Telling Mark, and B: if he is in the middle of a "Can you handle the burn?" induction he will stop ("Will you bring doom to your friends?" eyes remain active and deadly). Since the boss can immediately do a special ability when he hits the new phase, this can also cause two special abilities to fire back-to-back.

When Phase 3 starts, a new mechanic causes the room to begin slowly filling with fire. This is where the letters come into play on the map above. Look around the room for the fire - it'll always begin in one of the spots marked with a number 1. It will then spread out from that number following the associated letter - so for instance, if it starts on 1c, then it will move to 2c, then 3c, then 4c. It will NOT simply move clockwise around the room after this. Once 4c ignites, the fire can then spread to any of the other number 1 spots (like 1d, 1a, or 1b) and begin spreading out from that point. Fortunately, the grates no longer have their fire blast ability during this phase.

Because of this, you may need to move the boss. It is advisable to move the boss if the fire starts in either 1d or 1a if you're tanking in 3d (3d seems to be the standard spot for most groups). If it starts in 1a, and then moves to 1d next, you'll get trapped. If it starts in 1d, you know it'll be moving to 3d regardless. However, if your dps is fast enough, you may not need to move him at all. You also have a moment before it spreads to see where it's spreading and get away - so if it starts at 1a, you can keep fighting on 3d until you see the fire appear at 1d and then run across the blue section of the map (the part of the center without the altar). Just be ready to move.

Touching this fire will cause your health to rapidly drop, so that death is almost (but not quite) instant. Captains can use Last Stand to survive this attack, if necessary.

Note: The spreading fire seems to give equal trouble to high- and low-DPS groups. It is possible that the fire spreads at a rate proportional to how fast the boss was sent into the second phase. In any case, only the last 60k of the fight is a DPS race. Don't burn through power or waste big damage skills in the early part of the fight.
Reward - 1 DG Medallion
Boss Two: Alagossir
A lightning-based undead. As with the first boss, this boss has frontal aoes. He also has a knockback, so it's best to tank him in the middle of the room away from the edge (the knockback does not knockback very far, but if you tank him where he starts and people are standing behind him, they can get thrown over). When he does his knockback ability, it's important for everyone to stop generating aggro (heals/dps) for a moment, as the knockback is also an aggro wipe.
Alagossir also has a special ranged attack. He will say "You stray too far [playername]," and whoever he targets must get within melee range or get hit for 5000 damage. While using this attack, Alagossir stops everything he's doing.
This boss will only use one of the two special attacks each time he does a special attack. Because of this, it's possible to use his ranged attack to prevent his knockback. To trigger the ranged attack reliably, one player must leave his melee range immediately before he triggers abilities. If you have a ranged person in the group, you can have that person simply walk forward and backward throughout the fight to try to force him into doing the ranged attack.
There are also, periodically throughout the fight, adds that will pop out called Guldur Lights. These lights have no melee attack and low health, but they also have huge evade chances and an ability that causes people to get rooted in their spot. This root can, during Phase 1, result in people getting hit with his ranged attack. In Phase 2, it can result in players getting hit with the lightning that spreads throughout the room (see below). As a result, it's best to burn down the lights quickly whenever they appear.
During Phase 1, Alagossir can be moved about wherever you like. During Phase 2, he stays in one spot on his dias.
As soon as Alagossir drops below 100k health, he switches to Phase two for the remainder of the fight. During phase two, he calls forth lightning that blasts the area. Each blast does about 1700 damage in an aoe. Most groups used to take shelter in the small space between the lamp stand and the pillar on his left-hand side - however, this strategy has been made more difficult by a change in how lightning strikes around the boss.

In a group with heavy ranged/tactical dps, everyone can simply stay out of melee range. In a group with heavy melee dps, one person will need to be watching the pattern of the lightning blasts and call out for players to run out to the boss or back to the lamp (standing too close to the boss will result in getting hit with 3-5 blasts instead of just 1).
The lightning is a lightning attack, so RKs can prevent some damage using their prevention skill. Lightning-based attacks will do no damage to Alagossir.
The pattern that the lightning follows is very simple, and follows a set cycle (divided into 4 phases). (And thanks to Grampsaz for putting this list together! My edits were slightly clearer names, and shortening to save space.) There is a brief time to melee Alagossir immediately after the four-set cycle ends and during the first diamond set. However, the fan set will begin with multiple blasts of lightning right in front of Alagossir. You have slightly more than enough time to trigger a full fellowship maneuver, then everyone should retreat to the blue-circled areas on the map (if you want to avoid damage entirely) or to the lamp on the left if you're comfortable taking a few small hits.
'Diamond' - One blast of lightning will slowly circle the entire room. It will start behind him and to the left and follow the outer wall counter clockwise.
'Fan' - Five blasts of lighting will start at the boss, working their way to the back of the room, spreading from each other more and more as they make their way to the back of the room.
'Two Circles' - Two blasts of lightning will start on the boss, running straight down the middle of the room towards the back wall. At that wall, they split and each one will follow the outer wall back towards the boss.
'Two Circles Reversed' - The opposite of the previous pattern. The two blasts start at the boss working around the room, and then up the center back to the boss.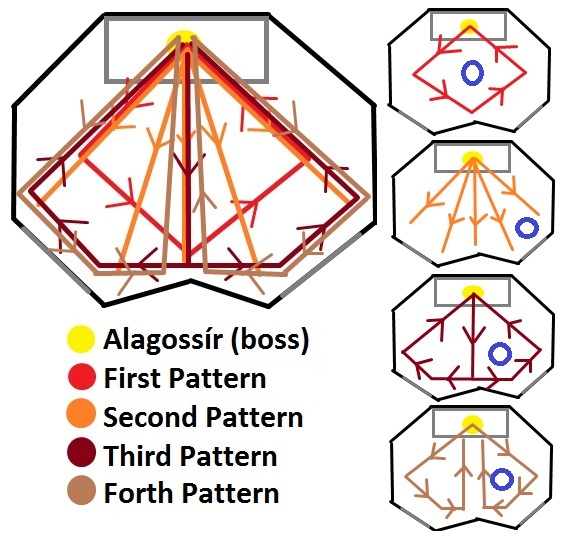 Reward - 2 DG Medallions
Boss Three: Gorothul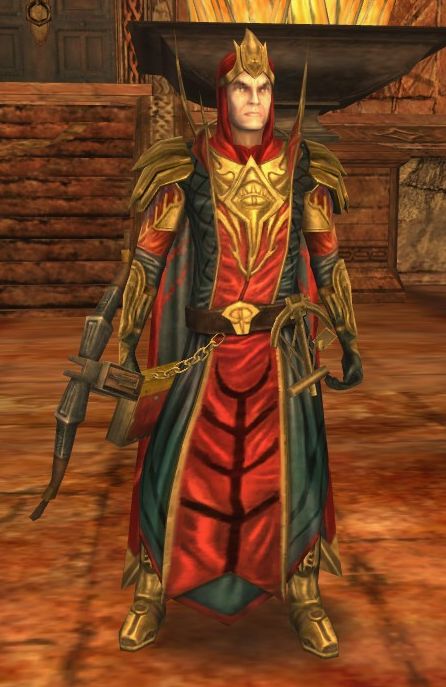 A sorcerer of Mordor (check out Sauron making his second appearance in lotro!). He is a man, so man-based abilities (such as LM ward) will work on this boss.

Many people consider this fight to be chaotic, but it does not have to be. There are a myriad of things going on in this fight, so I'll describe them as they occur during the course of the fight.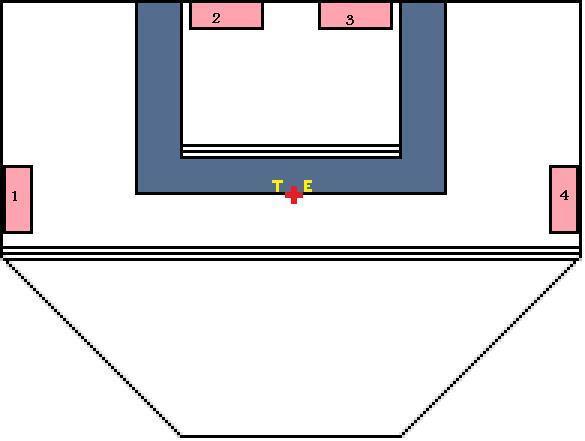 First: When you start the fight, you do so by stepping up onto the middle of the room's 3 levels. Gorothul will come down and stand on a spot directly in the middle left-to-right and right where the grated and un-grated portions of the floor meet (marked by a Plus on the map above. The blue/grey area is the grated portion). He will not move from this spot regardless of what goes on during the fight. When he reaches this point, everyone in the group will be stunned while Gorothul and Sauron have a conversation. Dread will increase in the room to about 100 dread, unmitigated by radiance (though tokens and purchased hope will help; thus, it is wise to use both). While this conversation occurs, you can eat and buy hope, but you cannot use any skills or read scrolls. There is enough time to eat 3 foods during the fight. The conversation ends with Sauron saying "Gorothul, destroy the free peoples who dare to intrude upon this my fortress of old" and Gorothul replying "Yes, my lord." Short-term food can be eaten at this start of Sauron's last phrase and still have time to finish before the battle begins. Some skills can also be started while in this stun, though they will not activate until the start fights. Because of this, you can get your first skill ready to fire (for Champions, I like Blade Wall, as I can hit it with no target and still get a pip out of it for ready clobbering of the boss; for Captains, I set Telling Mark to go off so that the boss gets the debuff right away).

Gorothul has a nasty knockback ability. It works similar to how the loremasters throughout Sammath Gul work, in that there will be an induction circle and when it fires off, everyone will get knocked back throughout the room. If you are anywhere below the Plus on the map above, you will get knocked down to the lower platform, and will break your leg as a result. This means it will take longer to get back to Gorothul. Someone with a short interrupt (ie: Champions or Wardens, or a Guardian or Burg with their Stamp or Addle, respectively, down to 5s thanks to legacies) should stay on the boss at all times. It's also good to have a backup in case one of these cannot get their interrupt off.

For the reason of knockback, everyone should be above the plus rather than below it. During Phase 2, there will be addiitonal problems (see below) that result in the best placement of everyone in the party to be at spots T (for tank) and E (for everyone else). These spots are within melee range of Gorothul and slightly behind him on the grated section of the floor.

About 30 seconds after the fight begins, adds begin appearing throughout the room. There will be two undead versions of the Loremasters and Sorcerers you encountered earlier. Two will appear at random at any of the 4 altars around the room (numbers 1-4 on the map above). If #1 or #2 spawn, it will always be a Loremaster. #3 or #4 always spawn Sorcerers. You could have any combination of 2 of these altars, including #1 and #2 for two loremasters, or #3 and #4 for two sorcerers. Loremasters have the same abilities here that they had elsewhere in Sammath Gul - most importantly, they still have a knockback (and, since they can move around the room, this knockback could knock you down and break your legs regardless of where you stand). Loremasters and Sorcerers can still be mezzed/stunned/feared/rooted/interrupted. Having a burg or LM to mez the loremaster is best (only a 1-in-6 chance of getting two loremasters) but minstrel/hunter fears can also work (in an emergency, champs can run over and interrupt or use a horn).

Fortunately, these ghosts are on a 30-second timer. After they have been out for 30 seconds, they will disappear for 2 or 3 seconds. A new set will then spawn. For this reason, there's no point to re-fear/re-mez an existing loremaster; instead, just watch for another spawn.

When Gorothul hits Phase 2 at 145k health, these altars stop summoning new loremasters and sorcerers. However, any loremaster and sorcerer currently out will remain out until killed. Because of this (and defeat responses), it's generally best to kill at least one of these (perhaps keeping the other locked down) before finishing Gorothul. An interrupter should stay on Gorothul at this time. If you're extremely, extremely fortunate, you will get Gorothul to switch into Phase 2 during the 2-3 second window between altar spawns. This will result in the Loremasters/Sorcerers simply disappearing and not coming back.

During Phase 2, the bone piles in the room will spawn ghosts, and these ghosts will issue ranged attacks and summon skeletons. Additionally, some blue spirits will spawn and come to the middle of the room. Let's deal with each:

First, the blue spirits: They have an induction-based skill that stuns a single target. Additionally, they are the hard mode/easy mode trigger (see below). Finally, every so often (about 30s I think, but it may be longer), Gorothul will say "Let Terror Take You" and the two spirits will disappear. There is a brief window of time after he says this where there will be no ghosts (the ghosts still appear for a few seconds, but they cannot be hit with damage); thus, when he says this, everyone in the group can feel free to AoE to try to burn down the skeletons. Shortly after he uses this ability, there will be a fear that everyone in the group will have a chance to resist. If you resist, life goes on as normal. If you do not resist, then one of two things happen: If you're standing on the grate, you get rooted in place and are temporarily unable to act. If you're standing anywhere else, you run around the room at random, potentially causing you to be unable to get back to Gorothul right away when the fear ends (this is the second reason to stand at spots T and E). These blue ghosts have 4-5k health, so if only one character is doing AoE (namely: the champ), it's unlikely you will kill any of them. Special note: Burgs and Guards can try to trigger an FM when Gorothul uses the Terror skill to interrupt the skill. This is the only way to prevent it entirely.

When the blue Ancient Fell Spirits are absorbed by Gorothul, they become the bone pile spirits. This means that as the fight goes longer and longer, more bone piles will activate and more skeletons will enter the battle. If you have high dps and kill Gorothul quickly, or if you kill the blue spirits (thus ending hard mode), you will prevent a great many of the skeleton spawns.
Second, the skeletons: The big problem with the skeletons is aggro. Because skeletons are constantly spawning during the fight, and because guards and wardens need to use special skills to generate AoE aggro and have a limited number of targets, it's possible that they could aggro onto the healer. For this reason, any time the healer uses a really big heal, he or she needs to use big threat-down as well. A minstrel, for instance, can use Anthem/Ballad of Compassion right before using Fellowship's Heart to significantly lower the amount of aggro generated by that big heal. Song of Soliloquy will help if the minstrel gets overwhelmed (I trait it to be an instant-fire skill so that I can get out of aggro quick without SoS getting interrupted). If someone (a champ, for instance) is doing AoE damage during this fight, he or she might pick up some of these skeletons or, better yet, kill some of them (to lower dps coming in and generate some defeat responses). If your group has a guard, the guard should put protection on the minstrel and keep using AoE threat generation. If the minstrel gets into an emergency, the guard can use Shield Wall to protect the minstrel from skeletons. The skeletons are the third big reason to stand in spots T and E on the map, as they need to be close to the guard or warden for the tank to get threat.

Finally, the bone pile spirits: These are yet another reason to kill skeletons. These spirits will summon 3 skeletons at a time maximum, and then use ranged attacks. There is a significant chance that the healer in the party will have their aggro, thanks to their distance from Gorothul, which means that if they get 3 skeletons summoned and those skeletons are not killed, they will keep attacking the healer. If, however, the AoE dps-er can kill a skeleton, the spirit will have to resummon it, effectively controlling the spirits' dps. These bone pile spirits spawn every time a blue spirit despawns, so they won't come into play immediately at the start of Phase 2, but there will be a significant number of them if you cannot dps Gorothul quickly enough.

Hard Mode Guide
For hard mode, you must NOT kill any of the Fell Spirits that he spawns. This is not hard. They have 4-5k morale, and are difficult to kill with aoe's accidentally since he absorbs them after they've been out for a bit. The catch is, each time a fell spirit despawns, a bone pile is activated. The room will rapidly begin to fill up with skeletons, so you will need AoE's and aggro skills to keep the skeletons off of the healers and you will have to kill the boss before there are too many skeletons to manage.
The rewards for Hard Mode are that you can advance to boss 4, and you earn additional DG medallions (3 from the quest, and 2 more from the 4th boss).
Rewards - Access to boss 4, 2 Medallion of Dol Guldur, and 3 Medallions of Dol Guldor from the daily quest (when boss 4 is killed), chance at a Symbol of Celebrimbor
Easy Mode Guide
For easy mode, you MUST KILL at least ONE of the fell spirits that Gorothul spawns. Once one dies, the door to the fourth boss locks, and you'll fail hard mode. If you kill all the ancient fell spirits before they despawn, none of the bone piles will activate. A good strategy is to leave one person tanking and interrupting the boss while any adds are out. Everyone else can kill the adds as soon as they spawn. Also, in this phase of the fight you can kill any lore-masters or sorcerers that are left and they will not respawn.
Rewards - 2 Medallions of Dol Guldor and a chance at a Symbol of Celebrimbor.

Boss Four: Demafaer (Hard Mode Only)
Demafaer is another undead boss. The room is divided into 4 quarters, and everyone should be within melee range of the boss. He is immune to damage at the start of the fight. To make him vulnerable, you must kill a skeleton in close proximity to him. This means triggering a bone pile before starting the fight (there is one in each corner of the room) and using AoE dps or targeting skeletons to kill them next to him.
When the fight starts, the boss immediately starts an induction. There are two inductions that look identical, so it's impossible to know which is being used. If the group can keep interrupting the boss (will take two interrupters alternating back and forth, or a warden spamming kick), he will never use a single special ability (including his green fire) and thus the fight will be pretty quick and easy.
When the boss does get an induction off, Quadrant 1 will fill with green fire.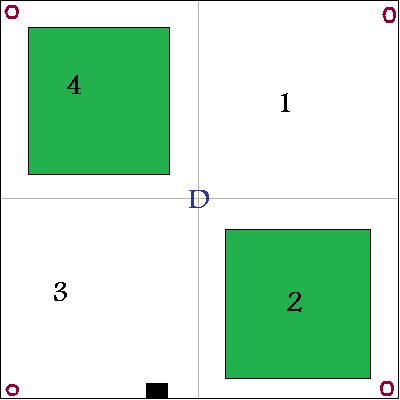 You will enter the room in quadrant 2 between the bone pile (red O) and the pillar (black box). Make sure to get entirely into the room, including resummoning Loremaster pets, as the gate will close when Demafaer is activated. Do not step into the pools of acid (green boxes) as these will instantly kill you.
This room is also filled with 60 dread. You can use a token to mitigate 50 of it, and buy hope to mitigate the other 10 if you desire. This dread is not mitigated with radiance gear.
While the green fire is up, it will move clockwise around the room, entirely filling that quadrant of the room. If you spend any time in the green fire, you will start to get a debuff to your maximum health, resulting in maximum health values of 1000 morale or less when it's maxed out. People who suffer this debuff tend to die quickly when damaged by skeletons, spirit, or demafaer, so it's important not to stand in the green fire. Because you know the fire will always move clockwise, you can stand in the quadrant immediately counter-clockwise from it to DPS the boss - so if the fire is in quadrant 1, stand in quadrant 4 (outside of the acid pool). When it moves to quadrant 2, then, you can move to quadrant 1.
When the boss gets to half health, he says "these corpses are becoming troublesome". At that point, he will clear debuffs and change where the fire is popped. The fire will ALWAYS fill quadrants 1 and 4 first at this phase, so it is extremely important that everyone move to quadrant 3 before he finishes this change (or quadrant 2, if quadrant 3 is currently filled with green fire at the end of Phase 1). From this point on, half the room will be filled with fire, so when it moves, quadrants 1 & 2 will be filled, then 2 & 3, then 3 & 4, and so on. As with Phase 1, you can continue to simply stay in the box counter-clockwise from the filled boxes to avoid the fire.
His other induction-based skill is a mez which can make you get stuck in the fire despite your best efforts. LMs can protect people from this mez, but it's best to always interrupt the boss to avoid the mez.
Rewards - 2 Medallions of DG, +3 for the daily quest, a chance for a Symbol of Celebrimbor, and a good chance at one of 3 teal items (Ril-Mir, a 70-vitality ring; Rochben, a 70-agility, 25-radiance heavy gauntlet; Glass Flask, a 70-fate pocket). One of these 3 teal items drops each time.

Special Pulls
There are several places throughout the instance with notable pulls thanks to the unusual mechanics of the room.
Entry
The foyer of the instance is a safe place to buff, read scrolls, eat, and so on. As soon as you pass an invisible line starting less than a meter after the front of the red carpet, you trigger the mechanics of the first room.
The first thing to note is the continual spawning of adds. 4 guards will spawn, 2 on each side, and rush toward anyone generating any aggro. Once they are killed, there will be a couple of seconds before another wave of adds spawn. These spawns can be stopped by triggering a fight with a Brute at the top platform in the center of the room. It's generally advisable to kill 3 guards before grabbing the Brute, and then trying to pull the 4th guard close enough to the brute so that guard is also transferring his damage to the Brute. This will allow you to AoE DPS all 3 guards now in play, killing the Brute quickly. (If the last guard is at 25% or 50% health (25% for an untraited champ, 50% for a traited champ), the champ will be able to do 25% more damage to all AoE targets, which means 25% more damage to the brute.)

Last room before Demafaer
In this room, you will see 2 summoners and 2 loremasters active and sparring close to the entrance. There are also 3 guards and a brute sleeping around the room.
The guards and brute become active based on which summoners and loremasters you kill. The closest summoner to the room's entrance and the two loremasters all trigger guards when they die. The far summoner from the entrance triggers the brute. As such, it's generally advisable to mark this summoner and avoid him (mezzing/fearing him, if possible) while burning down the other 3. Then, once the three guards are in play, kill the last summoner to trigger the brute, and fight the guards and brute as with the first fight in the instance.
You need JavaScript enabled for viewing comments