Kinship:The Order of Twilight
Player Entry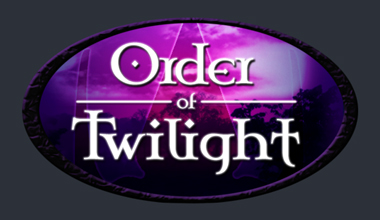 Background
Welcome to the Order of Twilight!
We are a Kinship for the people. If you're looking for a kinship that treats every member with respect and dignity, you've come to the right place. If you've been looking for an active group with scheduled events for every level range, appealing to a wide variety of playstyles, this is it.
We chose the Landroval server because it's the unofficial role-playing server, which we felt was important in our goal to be a "Kinship for Everyone." However, we are more than just a role-playing kinship. Although many of us enjoy role-playing once in a while (typically for special events), we try to offer an enjoyable experience to all our members regardless of interest or focus. Our Kinship chat is expected to be in-character, but we also have a Kinship OOC chat channel for those who aren't interested or comfortable with RP.
The Four Councils
We strive to be all things to all people. At the same time, we also value and support diversity. We really enjoy Lord of the Rings Online, and life in Middle-Earth. That enjoyment starts at level 1 and keeps going on after level 60. To make sure things keep moving, and everyone feels at home, we have developed four councils.
Each council is led by one or two officers, and is supported by up to three assistants. They are charged with scheduling and leading events, coordinating with other kinships, and providing support and guidance.
Fellowship and Lore
If roleplaying is what interests you, this is the kinship for you. The Fellowship and Lore Council is set up for scheduling and hosting RP and social events, and reaching out to the Landroval community to help bring people together.
Growth and Nourishment
The Growth and Nourishment Council is dedicated to help and support for all levels, mostly related to PVE, instances, questing, and equipment/finances. If you enjoy helping people and playing alts, this is the right kinship for you. This branch is also dedicated to recruitment, and making new members feel welcome.
(COMING SOON)
Advanced Encounters
The Advanced Encounters Council is dedicated to scheduling and leading instance runs, raids, and anything related to high level content. If raiding Angmar, Moria, or Mirkwood is your thing, our kinship is for you.
War Council
The War Council is dedicated to the war against the Shadow. If warfare is your thing, our kinship is for you. The War Council is a team of members dedicated to scheduling and leading events and coordinating with other kinships in regards to the ongoing struggle in the Ettenmoors.
Leadership Style
Order of Twilight was formed out of a desire to be a kinship where every member can feel a sense of ownership. We are a kinship that is owned, guided, sustained, and defined by our members. We have a leader and officers to help provide inspiration and direction, but ultimately decisions are a collaborative effort.
While the door is always open for members to provide input and direction, not everyone chooses to do so. That's when Redstonne and the rest of the officers come in... to bridge the gap. If any of the leadership is going in a direction that one of our members disagrees with, then it is our sincere hope that any concerns are brought up as soon as possible so they can be dealt with and hopefully remedied in a mutually agreeable way.
The idea is that nobody would choose to leave our kinship to form their own. Our hope is that any natural born leaders would find an outlet for their talents with us. We're always on the lookout for volunteers to take charge in various capacities.
Our leaders do not dictate duties. We never demand salutes or rigid protocols. We're just here to help provide an avenue for maximum fun and friendship for as many people as possible.
Website
Our website is http://www.orderoftwilight.com/smf/index.php
LOTRO Officers
Redstonne (leader)
Jarath
Daltholion
Beryllian
Todin
Eileithyia
(Zanriel is our overall Guild Leader. You will definitely feel and appreciate his presence on the forums, and hopefully he will be joining us in LOTRO soon as well!)
Admission
We are just starting out in LOTRO with roughly 8 active members, but we are a multi-game guild with over 100 members across LOTRO, WoW, City of Heroes, and other games.
Information on how to apply can be found here.
External Links
You need JavaScript enabled for viewing comments