Landmark:Archet
Official Game Entry
Archet is a small hamlet in Bree-land lying to the northeast of Bree-town, nestled at the edge of the Chetwood. The town and its outlying lands are inhabited by farmers and other rustic folk, who have little use for the bustle of big town life. A few hobbits dwell here, but the inhabitants are predominantly Big Folk.
The lack of any real authority and the peaceful nature of Archet's people have recently drawn the attentions of a band of brigands known as the Blackwolds, though rumour has it that the Blackwolds have much darker goals than terrifying common folk and farmers. To counter this threat, a retired sellsword by the name of Captain Brackenbrook has begun organizing the townsfolk into a makeshift garrison to repel the advances of the brigands.
Little is said of Archet in The Lord of the Rings, other than a brief description of its locations, allowing the developers at Turbine some room to expand on its personality. Building upon Professor Tolkien's allusion to troubles with 'robbers' in the region, Archet became the starting location for Men and the threshold from which both Men and Hobbits begin their journey in The Lord of the Rings Online™: Shadows of Angmar™.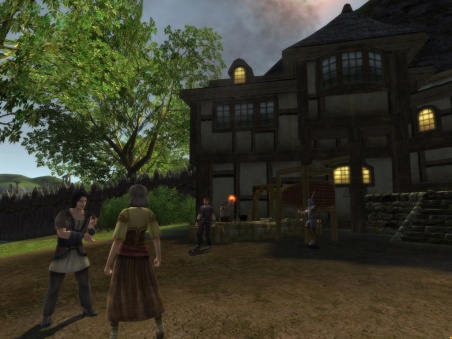 Archet
Quick Facts
| | |
| --- | --- |
| Timeline: | |
| Dates: | Uncertain, but apparently founded before c. III 1300 |
| Location: | On the edge of the Chetwood, to the east of Bree |
| Races: | Men and Hobbits |
| Culture: | Bree-landers |
| Pronunciation: | a'rchet |
| Meaning: | From Old English ar-cæt, meaning 'forest's edge' |
The most remote of the settlements of the Bree-land, a village set among the trees on the edge of the Chetwood, somewhat to the east of Bree itself. When Aragorn and the Hobbits left Bree on their journey to Rivendell, they started out in the direction of Archet to fool the crowd of watching Bree-landers, although they turned aside into the Chetwood before reaching the village itself.
Later in the War of the Ring, the woods around Archet became the abode of ruffians and robbers from the south. During the winter, these Men attempted an invasion of Bree itself, but were fought back. Their accomplices among the Bree-men, Harry Goatleaf and Bill Ferny, escaped with them, and apparently joined them in their forest camps near Archet.
Player Entry