Landmark:Brandywine Bridge
Official Game Entry
Brandywine Bridge
| | |
| --- | --- |
| | |
| | |
| | |
| | |
| | |
The Bridge of Stonebows, as the Brandywine Bridge was once called, was built originally by the Men of Arnor as a causeway across the Barandúin River on the Great East Road. When the founders of the Shire were granted their land by the king of Arthedain, the price was simple: to maintain and care for the Bridge so that travel into the West would never be impeded. The Hobbits of the Shire performed their duty, even long after the North-kingdom failed, and maintained the great stone bridge, denying none passage, Man, Elf, or Dwarf. Though the river's name was changed to the Brandywine and the bridge itself became the Brandywine Bridge, the Hobbits of the Shire continue to care for and keep watch on the Bridge.
As trouble brews in the Shire, gates with locks are installed into the great archways and Shirriffs posted at either end. While the Shire-folk have always been distrustful of "Outsiders," the increased traffic of rough Men and other folk have forced them to be on guard against encroaching dangers from beyond their borders. Fortunately, the trouble the Land of the Halflings has seen thus far is but a trifle in comparison to the shadows growing outside.
The Brandywine Bridge is a prominent landmark of the Shire drawn straight from the pages of The Lord of the Rings. It is the means by which the Ringwraiths leave the Shire to assault Frodo Baggins' home at Crickhollow in Buckland, and it is where Frodo and his companions are "arrested" by Shirriffs at the command of the mysterious Sharkey as they return from the Quest of the Ring. It is certain that famous landmarks such as this will play a major role in LOTRO as The Shadows of Angmar unfold.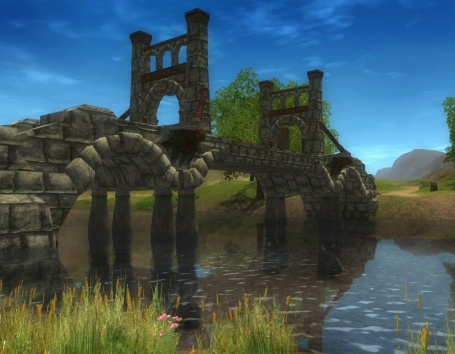 Quick Facts
The bridge on the East Road crossing the River Brandywine; it marked the eastern border of the Shire. Originally called the Bridge of Stonebows.
Footnotes
| | |
| --- | --- |
| 1 | There are some records of bridge-building before the War of the Last Alliance, to help organise the transport of troops into the southern lands, and though it is never stated for certain that the bridge over the Baranduin was one of these, it seems at least plausible. If so, it would have to date back to the earliest part of Arnor's history, before the end of the Second Age. |
Player Entry