Landmark:Celondim
Official Game Entry
Hundreds of years before the events of The Lord of the Rings, the Elves of Lindon founded a refuge upon the slopes of Ered Luin, where wood for the White Ships was gathered and elven wine was made. Edhelion, it was called, and it was a place of contemplation and peace...until Skorgrím Dourhand, an evil Dwarf-lord descended from the kings who once ruled the long-ruined kingdoms of the Blue Mountains, led his people, allied with goblins and trolls, against this elven refuge.
Talagan Silvertongue, the Master of Edhelion, sacrificed himself to defeat Skorgrím, but Edhelion was abandoned in respect for its many fallen defenders. The Elves removed themselves to the foothills of Ered Luin and founded a new refuge, Duillond, nearer to the elven port of Celondim, which ferried the wood gathered in the mountains down the river Lhûn to Mithlond, the Grey Havens. The Elves of Duillond lived in relative peace with the dwarves of Durin's line who had followed Thráin and Thorin into exile in the Blue Mountains, but now tensions between Elf and Dwarf is rising once more.
Edhelion, Duillond, and Celondim are all locations created by the developers of The Lord of the Rings Online™: Shadows of Angmar™ to provide a starting point for players who choose to create Elf characters. Elf players will get to experience the fall of Edhelion, six hundred years prior to the events of LOTRO, and help uncover a sinister plot brewing in Ered Luin.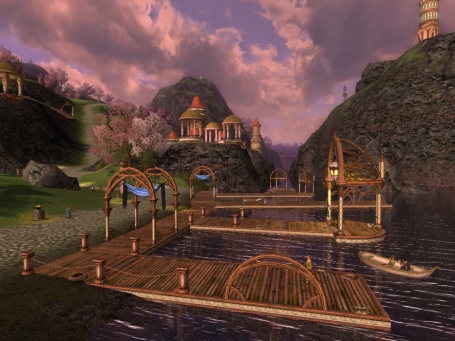 Player Entry
Celondim

The elven town of Celondim lies in the southern-most reaches of the Blue Mountains. Situated directly on the River Lune, and near the sea, it is a stop for the great ships that carry the elves back to their ancestral lands in the West. Four great towers guard and guide ships to the port. Away from the banks of the Lune, to the west, Celondim sprawls into the hills with fine stairways leading to wide terraces.
Celondim features most of the amenities expected in a bustling city. It has a full complement of trainers, merchants, and crafting equipment. A stable and bard are also present. There is a vault, but no auction house or reflecting pool.
Elves present at the fall of the Refuge of Edhelion, and who have returned to fight the Shadows of Angmar begin their journey in Celondim. As a starting area, it is linked in the fast-travel network, by which the other starting areas can be reached for only 1

.
Stable Routes
You need JavaScript enabled for viewing comments