Landmark:Combe
Official Game Entry
Travellers heading north-east from Bree will come upon the village of Combe, located within its deep, forested valley and evidenced by the wisps of chimney smoke rising above the trees. As with the other villages between Bree-hill and the Midgewater Marshes, Combe is traditionally a quiet place, populated by hard-working Hobbits and men, who co-exist in peace while keeping largely to themselves. The townsfolk have a reputation for being cautious and slow to welcome strangers, yet friendly enough to those who prove themselves to be of good character.
However, a chill wind now blows from the north and rumours are whispered of a dark alliance among the once-disparate bands of brigands that roam these lands. As long as any can remember, Men of questionable character have been minor irritants to farmers and travellers in these outlying lands, but now these brigands appear to be united, attacking under the direction of a nameless leader. The people of Combe, and indeed of all its neighbouring towns, have banded together to turn back these increasingly bold attacks. Even the wolves in the lands beyond the town gates seem more aggressive in these darkening days, and tales are told of more sinister creatures prowling the depths of the shadowed forests and crumbling ruins throughout the Chetwood.
In The Lord of the Rings Online™: Shadows of Angmar™, players who choose the races of Man or Hobbit may begin their first forays into the various Vocations within LOTRO's Crafting System by speaking to Jill Brushwood, Mistress of Apprentices, in Combe.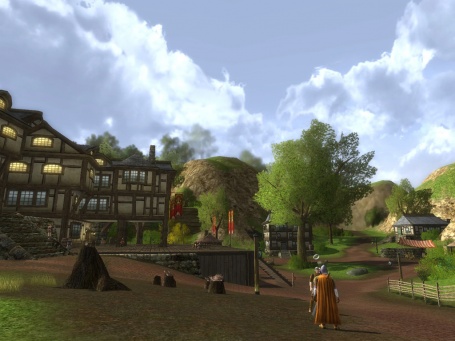 Combe
Quick Facts
| | |
| --- | --- |
| Timeline: | |
| Dates: | Uncertain, but apparently founded before c. III 1300 |
| Location: | In a valley on the eastern side of the Bree-hill |
| Races: | Men and Hobbits |
| Culture: | Bree-landers |
| Pronunciation: | coo'm |
| Meaning: | '(deep) valley' |
One of the four settlements that together made up the Bree-land, Combe lay in a deep valley on the eastern side of the Bree-hill. It was somewhat to the north of Staddle, but not so distant from Bree as Archet on the fringes of the Chetwood. Its name comes ultimately from an Old English word cumb meaning a deep valley: the same root-word occurs in the name Deeping-coomb, the valley of Helm's Deep far to the south in Rohan.
Player Entry