Landmark:Greenway Crossing
Official Game Entry
Greenway Crossing
| | |
| --- | --- |
| | |
In the days of Elendil and his descendents, the North Road ran from Fornost down through Andrath until it became the South Road at Tharbad. From there it continued all the way to Minas Tirith in Gondor as the primary trade-route between the North and South Kingdoms. The wars with Angmar and Rhudaur that brought the North-kingdom to an end also caused trade between north and south to fail.
Disused for a thousand years, particularly north of Bree, the Greenway is overgrown with grass and is little travelled except by refugees from the war-torn south. Brigands and ruffians lie in wait alongside the ancient highway waiting to prey on the weak and unguarded. Few now dare the treacherous wilds through which the Road runs.
The Greenway is a well-known road in J.R.R. Tolkien?s The Lord of the Rings. It is the one Tom Bombadil took Frodo and his companions to after their narrow escape from the barrow of the last prince of Cardolan. In The Lord of the Rings Online™: Shadows of Angmar™ many dangers lie along the Greenway, as well as many opportunities for adventure.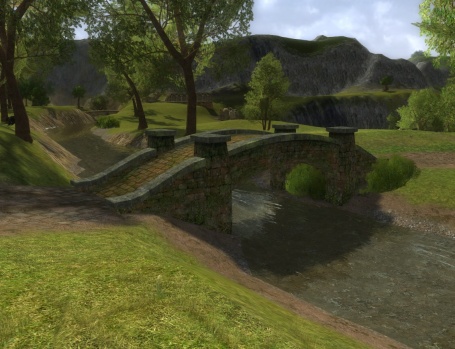 Greenway
Quick Facts
Especially in the northern parts of Middle-earth, the name given to the overgrown remains of the ancient North-South Road that ran from Gondor in the south to Arnor in the north.
Footnotes
| | |
| --- | --- |
| 1 | The seventeenth century is the only recorded date relevant to the decay of the North-South Road: it was the time when the maintainers of the road were withdrawn from Tharbad in its middle reaches, far to the south of Bree. At this time the North-kingdom had been at war for several hundred years, and the segment of the Road under its control may already have begun to fall into disrepair. |
| 2 | Actually, the termini of the North-South Road are not established with certainty, but Annúminas and Osgiliath were the capitals of the North- and South-kingdoms at the time the road was built, and it seems unlikely that the Dúnedain would build a road across Middle-earth without connecting their two main cities. |
Player Entry