Landmark:Noglond
Official Game Entry
Noglond
| | |
| --- | --- |
| | Location: 19.33S, 100.49W |
In the Vale of Thrain, below Thorin's Hall, lie two outposts of the Dwarves: Noglond and Gondamon. The first and lesser of these, Noglond, is little more than a way-station nestled in the mountainside off the road leading eastward. The greater of the two, the fortress Gondamon, sits atop a great hill further east, watching over the surrounding lands.
Both were once Elven holdings in the days of Edhelion, but fell into ruin in the long years after the fall of the refuge. The dwarf-exiles of the Lonely Mountain rebuilt them, under the leadership of Thr?in and Thorin, and the Elves of Duillond welcomed them to the mountains. In these evil days, the guards of Noglond and Gondamon must be ever-vigilant against the return of the treacherous Dourhands and goblins out of the north.
Noglond and Gondamon were created by the Turbine developers of The Lord of the Rings Online™: Shadows of Angmar™ to help give life to the Dwarf-holdings of the Blue Mountains. Players adventuring in Ered Luin will want to visit both, for the Dwarves will very likely have much for them to do.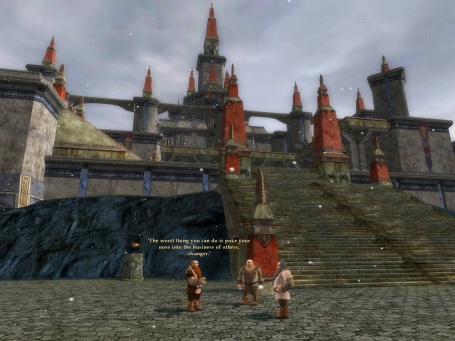 Player Entry
Noglond

Noglond is a small dwarven outpost located on the road between Thorin's Gate and Gondamon. A shopkeep trades wares and repairs gear here, though the settlement's primary purpose is to guard the passage north.
Of late, Noglond has had problems gathering supplies, goblins have occupied the old Dourhand ruins to the south, and the flow of water from Thorin's Gate via the canal has slowed to a trickle.
You need JavaScript enabled for viewing comments