Landmark:Stock
Official Game Entry
Stock
| | |
| --- | --- |
| | |
Located in the Eastfarthing of the Shire, the village of Stock can be found in a region of swampy, yet fertile, farmland known as the Marish near the convergence of the Stockbrook and Brandywine rivers. Relatively large for a Hobbit village, dwellings in Stock are a bit unusual; many of those who dwell in this region prefer above-ground houses to the traditional Hobbit-holes. There are exceptions, of course, and adventurers here will find a pleasant mixture of Hobbit-holes, as well. Two main roads that meet in Stock, one heading west to Tuckborough through the Hill Country of the Shire and the other heading north to the Brandywine Bridge (the Bridge of Stonebows) or south through the Marish, bring a unique mix of travelers and locals to the village's taverns.
The village of Stock does not figure prominently into the tales of Frodo and the quest to destroy the One Ring, which opens up an interesting challenge to the LOTRO team. When re-creating the entirety of Middle-earth, it is important to design many locations in the game beyond those familiar to the readers, to give the game world the feeling of breadth and endless possibilities. Even though some regions are only casually discussed in the The Lord of Rings, often this is enough to allow the designers at Turbine to get a glimpse of Professor Tolkien's vision of an area and begin to breathe life into these corners of Middle-earth not yet explored. This is an excellent starting point from which to create a rich and bustling village true to the books from which the entire game draws its inspiration. Understanding that many of LOTRO's players will themselves be life-long fans of Professor Tolkien's work, there is little doubt that these regions and villages, which went largely unexplored in the books, will be amongst the first places visited by the seasoned fans of Middle-earth.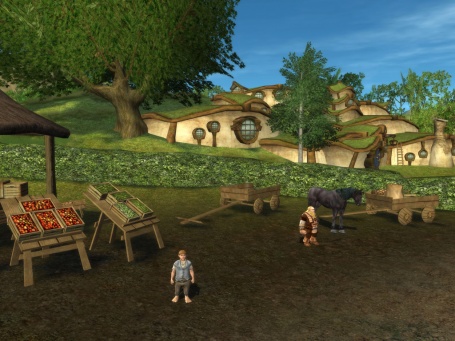 Stock
Quick Facts
A small town of the Marish
A small town or village of the Marish, near the banks of the River Brandywine, in the Eastfarthing of the Shire.
Footnotes
| | |
| --- | --- |
| 1 | Tolkien never directly explains his intended meaning of 'Stock', but there are numerous real placenames that use this element (not least the village of Stock in Essex, England) which comes from Old English stoc, meaning an outlying farm or village. Given Stock's outlying position in the Shire, this seems a very likely interpretation. |
Player Entry