Landmark:The Party Tree
Official Game Entry
In a broad, open field in Hobbiton, not far from Bag End, there stands a majestic tree, taller than any within sight for miles. The Party Tree, as it is called by the Hobbits, is a gathering place for merriment, eating, and storytelling, where all Shire-folk are warmly welcomed. It was here that Bilbo Baggins celebrated his magnificent birthday (his eleventy-first), and it was from this location that some say he simply vanished from sight forever. Few are certain of the Tree's origins, and even fewer actually give its history a second thought. The Party Tree is decorated year-round with bright lanterns and yards of colourful woven streamers, for it seems logical to all Hobbits that a decorated tree is reason enough for a celebration -- why risk missing the opportunity for a feast by bringing down the festive arrangements? Besides, it's far too tall these days for Hobbits to reach the limbs, even if one had a mind to.
The Party Tree, as readers of The Lord of the Rings well know, is one of the first locations described in The Fellowship of the Ring and one of the best known landmarks in the Shire. Towering over the surrounding field and offering a nice shady place to meet friends, exchange stories, and trade goods, The Party Tree is a landmark that players are able to see from great distances and is designed to be an important social center for the Shire.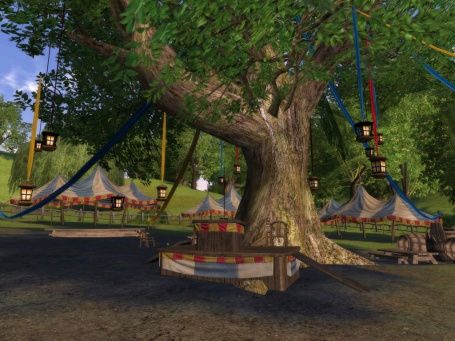 Party Field
Quick Facts
The field of Bilbo's farewell feast
A large field in Hobbiton where Bilbo held his Birthday Party, and Sam Gamgee planted a mallorn tree after his return from the Quest of Mount Doom. Afterwards used for holidays and celebrations by the Hobbits of that region.
Player Entry