Lieutenant of Dol Guldur Walkthrough
Player Entry
Preying Mantis' Guide to Defeating The Lt. of Dol Guldur
---

Disclaimer: This guide is as accurate and complete as we can possibly make it, but as with any encounter, there are certainly other ways to approach killing The Lieutenant of Dol Guldur, some of which we may not have tried. We have used this strategy to defeat The Lieutenant of Dol Guldur with success, so it definitely works. If anyone reading this notes any inaccuracies or errors, or has suggestions on ways this strategy can be improved, please send a private message to Eomin on either the LOTRO forums or on the Preying Mantis forums (http://www.preyingmantis.org). We hope you will all find this strategy helpful!
Preparations
Well, you've made it this far into Barad Guldur - So we're going to assume that everyone in the raid has at least 120 Radiance, if that isn't the case; I would recommend that you stop reading at this point. If you have the 120 Radiance (Base) needed, please continue on!
Before you start there are a few preparations that need to be done, and the first and perhaps most important is your voice interface. Personally we recommend using Ventrilo, but in-game voice chat does work. Make sure that everyone can listen in, even if they don't talk (better actually if only a few selected people are talking during a raid), and that the people who will be communicating instructions can be easily heard. If necessary, turn down or turn off the in-game sounds so you can clearly hear the raid instructions, and make sure you set your microphone on "push to talk" so you don't spam the voice channel when your wife/husband/whatever decides to yell at you for playing that dumb game again!
Things to Bring With You
Glorious, Luminous or Sparkling Edhelharn Tokens
My suggestion is that every single member of your raid brings at least one, and preferably two of these. The Lt. will give your entire raid 190 Gloom, and without a +5 Hope token you'll spend the fight cowering, which is neither productive nor fun.
Scrolls of Supreme Battle Lore and Warding Lore
These aren't absolutely required of course, but they are easy to get and each scroll helps the entire group for 30 minutes with +500 and +1000 defense rating. There are plenty of good reasons to use them, and no good reasons not to, so I would recommend using them every time.
Celebrant Salves and Essence of Athelas (Power and Morale Pots)
Power and Morale pots will play a very large role in this encounter. Make sure you have a stack of each.
Food
Every little bit helps make this an easier fight, so make sure you've got your food of choice ready to use. I recommend Cups of Red Tea and Rack of Lamb or Lothlorien Waybread. Also, there will be fear puddles and dots, so Lamb and Barley soup can help resist such effects.
Destiny Points
Destiny can play a larger role in raids now, especially with the Lt. While it's not needed, it definitely helps. This option is used assuming you have no hope turn-in.
Other Consumables
If you're the leader of the raid, be sure to bring extra potions, hope tokens, battle/warding lore scrolls, food, etc., or assign someone else in your raid to bring them. It's inevitable that someone will forget and it's easier to have extras than to make 11 other people stand around while someone goes to get something they forgot.
Preparing your Raid Interface
Show dispellable effects only
You should always be using this on raids, in my opinion. Bring up your Options menu, go to Social Options, and put a check mark next to "Show Dispellable Effect Only". You'll no longer be able to see buffs on the members of your fellowship/raid, but you'll be able to easily see debuffs that can be dispelled, which is the whole point.
Show Health of Target's Target
I always keep this up all the time (in fellowships too), as it provides an easy way to tell who has aggro, and how much morale and power they have. With this display showing, it's very easy to tell if your target has changed targets so you can react accordingly.
Raid Assist Window
You do have this up already, right? If not, bring up your Social panel, go to the raid tab, and hit the button that says Raid Assist Window. Your raid leader has already specified who is the main assist, right? The raid assist window is your best friend, so use it.
Show Vitals
On the same Raid tab of the Social panel, you have the option to select whose vitals you want to see on your screen during the raid. I usually keep everyone up, so I can instantly see if anyone in the raid has died, needs a heal, or needs to use a potion. You can also use their vitals display to target them just by clicking on it, so they can be quickly rebuffed, healed, etc.
Ok, so now you're all ready to roll! You've got your potions and all your consumables on your hot bar, and you've got your interface all set up just how you like it, right? Okay, sometimes the default locations of those windows aren't right where you want them, so use Ctrl + \ to move them around to your liking (this undocks the windows so you can move them around). I would also suggest that when you do this, move your OWN status bar (the one that's usually up in the upper left part of the screen) down next to your hot bar somewhere. So put your status bar someplace where you can easily see it while you're fighting; You can always move it back later if you don't like it there all the time.
Getting ready to Fight
You're almost ready to go! Just a few more things to do! Get everyone in position just inside the archway, but don't run up too far or risk starting off the encounter early. Now is the time to use your Scrolls of Battle Lore and Warding Lore, Food, your first Hope token. Have Captains and Minstrels refresh everyone's buffs. Lore-Masters summon your Eagle at this time, and keep it on passive for now.
Traits
Traits can play a vital role for this encounter, especially your virtues. Extra Morale and Armor Value can greatly improve your chances to survive. So with that, I strongly urge you to slot the following:
1. Valour (+240 Morale)
2. Justice (+150 Morale)
3. Fidelity (Shadow Mit)
4. Innocence (+1000 Melee Defense)
5. Loyalty (+30 Vit, +62 Power)

I would also recommend maxing these all out at 10. It's easy to do, and more importantly it's easy to do solo with all the new Eregion and Moria traits. This is a challenging encounter, with little room for sloppiness. So stop being lazy and go kill some stuff!
Weapon Damage Type
I assume 95% of raiders are using Beleriand, so stick with it.
Group Make Up
A Balanced group is going to make this raid much easier, than stacking classes will. My suggestion is to have 2 Minstrels along with 2 Captains, or a Captain, Rune Keeper Combination. Off healing plays a large role in this fight, so make sure you have enough of it.
Optimal Setup
1. Tank
2. Tank
3. Healer
4. Healer
5. Captain
6. Captain
7. Lore Master
8. Rune Keeper
9. Ranged DPS
10. Ranged DPS
11. Ranged DPS
12. Ranged DPS

Phase One
The Setup

The room you are fighting in is an octagon. The room is symmetrical so no matter what side you fight on, the fight is exactly the same. The lieutenant will start in the middle of the platform and will have a ~10 second script where he says you are going to despair yadda yadda. This is time to eat food, use oils, use chants etc (things that don't have a 40m timer that will run out while you fight).
Starting The Script

As soon as phase one begins, the Lt will shout out, "That one looks tasty, feast on its flesh" or "Look at them scramble, feast on their flesh". The beast will point its head at who it is going to target and give the yellow eyeball (but will not give a name). After that, the beast will probably take a melee swipe at all near him and then do a shadow breath (~2000 shadow damage in a cone). Shadow breath is easily avoidable by sidestepping the big purple haze coming towards you. Whoever has the yellow eye must RUN. If the fellbeast touches you, he will not only damage you for 2k-3.5k depending on your class (squishies get hit harder) but he will heal 10,000 damage. The eyeball lasts for 30 seconds and will switch after that 30 seconds is up. The LT will choose another person and they will have the eyeball.
After 45 seconds, the beast will hop up in the air and land somewhere around the arena. Upon landing he will drop a shadow puddle which deals ~1000 damage every couple of seconds to anyone standing in it. The beast starts at 492k morale and Phase 2 does not begin until he reaches ~148k morale. So, roughly every 45 seconds a new puddle will be made. The difficulty level of phase 2 is wholly dependent on how many puddles you have and the configuration you have. Since you cannot control the configuration of the puddles, you must control the number of puddles active. Everyone in the raid should be contributing DPS at this point. Guardians should be in overpower. Wardens should be in recklessness. Hunters in BM strength stance etc. Everyone should try to throw some sort of damaging skill, including minstrel's PC every 30s.
Every so often (every 30s or so), the fellbeast will stop and do a tailswipe. It will slow (60% slow) and silence all that are within the reach of the tailswipe. The safest thing to do as a melee class is to just sidestep his tail when he stops chasing the person he is chasing. Until the fellbeast moves again, melees should not try to deal melee dps.
At about 170k morale, the leader of the raid should pick a direction where the two tanks will tank the LT. These directions are one of the following 8: N,NE,E,SE,S,SW,W,NW. You should try to pick an area that has the least amount of puddles so that your tanks can freely stand in that area. Everyone else should spread out in case of a purple eyeball being put on a non tank (this will be explained). 10 meters apart will do. The best setup is a semi-circle around the tanks but you want to give the tanks a free path to their destination (one of the above 8 directions). Once the tanks reach their destination, the remaining raid members can make a semi-circle around the tank.
Special Notice Past this point, if anyone dies, the LT will spawn a berserk ghost (akin to the wights downstairs) that will deal massive damage and has an aura that deals ~600 frost damage every 2 seconds and snares run speed 40% to anyone in ~10m of him. It is very bad to die past the dismount and will likely result in a party wipe.
Phase Two
Phase Two will begin when the fellbeast reaches ~148k morale. The lt will yell first make a text announcement: "My pet has toyed with you long enough." (Or something of the like that I can't remember) Then... your audio cue for the LT dismounting the fellbeast will be "I shall handle you myself." Immediately two things will happen: First, whoever the LT is aggro'd on will get force feared. The visual/audio cue for this is "Flee in terror, mortals." Second, whoever the lt is aggro'd on will get a purple eyeball. The visual/audio cue for this is "I sense a seed of doubt it your heart." Think of the purple eyeball like a bomb that doesn't kill the holder. Anyone around the purple eyeball will be damaged for ~5k damage every couple of seconds for 15 seconds. (This is similar but the much more dangerous than the earlier Sorceror cue of "you will betray your friends). Anyone who is standing within ~10m of the person with the eyeball is going to die, plain and simple. This is where communication is key. Whoever has the eyeball needs to be vocal and tell people that they have it so that others don't run through into them or past them or whatever. The eyeballs and the fears will only be put on the person that the LT is aggro'd on.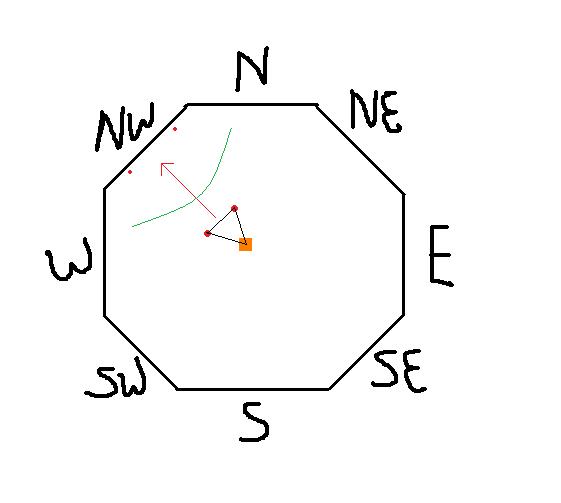 The Two Tanks
Tanks should be 10m spread apart at all times. Both tanks should immediately throw an aggro skill at the LT. If you're a champ, force taunt, if you're a guard, fray the edge, if you're a warden, charge up something quick like Precise blow or piercing strike, or spear of virtue, or Wages of fear. Something quick... just to get the LT focused on you. The hope is that the tanks receive all fears and all purple eyeballs. Tanks should move swiftly to the wall of their direction (West is the doorway).
The corruption cycle:

Here are the corruptions. Blue is the first. The shadow DoT is tied to the red debuff. Below is what the blue corruption buff on the LT looks like:

Here is what the red corruption looks like:


Here is what the yellow corruption looks like:


What this means is that when the first corruption is on the LT, you will receive the blue debuff. After ~7 seconds, if the corruption is not removed, the debuff will ramp up another 10%. Eventually, the debuff will reach numbers that cannot be dealt with. (If your incoming healing is at -80%, you're dead, plain and simple ). The strategy for the first corruption cycle is to let the blue debuff reach 30%. Once the debuff is at 30%, a tank-ish class should remove the corruption. If you're a guardian, you must plan ahead. Apply sting as soon as you can on the lieutenant. If you're a warden, you're lucky. Use reversal when the blue debuff is at 30%. If you're a champ, I feel bad for you because your removal is gated behind luck. Use feral strikes and hope for the best. Once a tank class removes the first corruption (which is the eyeball), you will get a raid wide fear DoT (very easy to see), and the red debuff. Since the red debuff affects run speed, you must burst (as we call it) him immediately into the next corruption which is yellow (I will explain why in a minute). The yellow debuff is the easiest one to deal with as it affects only minor things when compared with incoming healing (melee damage, power costs, inductions). You can leave him in yellow til the debuff reaches ~50%, move him back into blue, and then repeat the same cycle as mentioned above.
During this time, the fellbeast will continue to do what it was doing in phase one. However, without the LT to direct it, it will attack the person who it is aggro'd on (usually a hunter) much more readily. So... whoever the fellbeast is aggro'd on must be ready to move AS IF he had a yellow eyeball because the fellbeast will be coming after him. The yellow eyeballs will continue and the kiting/sidestepping will need to continue until the fellbeast dies. Everyone should be pounding the fellbeast with DPS except for the tanks/healers. The faster he dies, the faster you enter phase three and practically win the fight.
Phase Three
Once the fellbeast dies, the fight simplifies immensely. No one has to run around anymore, everyone can form a semi-circle around the LT and chuck throwing axes at him. The eyeballs will continue and so will the fears. If your group is very good at timing, you can send melee dps in for one or two hits and evacuate back to the semi-circle before he throws another eyeball. 0 ICPR continues and there is no way to regain power without two lms properly traited or a power pot. Use only power efficient/threat reducing skills. Keep up the DPS and you'll win. That's it.
Any questions, comments, corrections etc, please speak up. I used a lot of tildes because I am not exactly sure about any numbers but I have a very good idea about them.
We wish you the best of luck, and hope this guide can get you over whichever part of this encounter you may be stuck on.
You need JavaScript enabled for viewing comments