Mechanics:Generators
Player Entry
A generator is the mechanism responsible for creating world objects such as creatures and resource nodes. This usage is adopted from the terminology used by developers on the official forums. [1]
Creating Nodes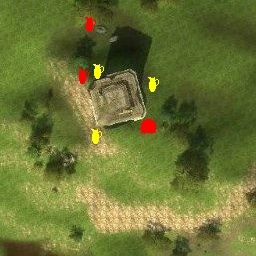 Each generator is responsible for a number of fixed locations at which items or creatures appear, called "nodes." Each node represents a fixed type of resource. A generator can have one active node at a time, and will not generate another until the previously created item has been removed.
In the theoretical example at right, there are two scholar node generators. The yellow one creates only shattered pitchers, but the red one is also responsible for occasionally creating a wooden chest. This is what is referred to as 'sharing spawns.' When the chest is active, the red generator will not create any more pitchers until the contents are looted. Also, note the overlap of the area in which each generator works. Nodes that are close to each other, but on different generators, can throw off an estimate of the number of concurrently-available nodes in a given area.
Most creature generators appear to work the same way. Instead of resources, assume that the nodes on the red generator are a hendroval, a lynx, and a wolf. Since only one can be active at a time, a new hendroval will not spawn until the wolf, for example, is first killed.
Creatures in a fixed location (the guards at the entrance to a goblin camp, for example) behave as though each has its own generator. Upon death, the timer starts, and the new creature is always recreated in the same location.
Node Respawn
A generator's active node must be removed from the world before it may create another. For resource nodes, this requires emptying the container. For creatures, the timer to create a new one appears to start at the death of the creature. This signals the generator to do its job, after which it again waits to be notified of node death before starting the cycle over again.
Some spawn timers appear to be fixed, while others are random (within limits). Creatures, especially those in set locations, tend to have more precise times for resetting. This can be most easily seen when killing two guards at an entry way almost simultaneously. They will reappear with approximately the same relative timing as they were killed. Resource nodes appear to spawn more randomly, sometimes taking scant seconds to recreate a node while at other times requiring long minutes between mining and regenerating.
While the generator chooses a node to create at random, the distribution is not even. Metalworking minerals, such as barrow-iron, currently spawn three times as often as precious metals, such as silver. This could be accomplished either through a 'weighting' of nodes or by simply placing more of one node type across the landscape than the others.
You need JavaScript enabled for viewing comments