Monster:Tyrant Trintrû
Official Game Entry
Level(s):

61 Arch-nemesis (Boss)

Classification:
Orc-kind
Uruk
Krahjarn Tribe
The island fortress of Tol Ascarnen is a prize that neither side in the struggle for the Ettenmoors can afford to lose; thus it remains one of the most contested keeps in the battle. The war-tyrant Akúlhun assigned one of his most fearsome lieutenants to claim and defend Tol Ascarnen.
The Uruk Trintrû commands fear and respect from all who follow him, from the lowliest goblin to the greatest troll. There is rumor among his minions, however, that he has his eye upon Akúlhun's post. The War-tyrant must keep a wary eye on his lieutenant.
In The Lord of the Rings Online, Free Peoples players must strive to overthrow the tyrant Trintrû in order to secure Tol Ascarnen, while monster players must defend him against assault.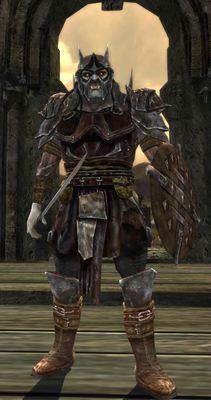 Player Entry
You need JavaScript enabled for viewing comments