NPC:Elrond
Official Game Entry
'In the Last Homely House you shall find rest and refreshment from your long road.'
| | | |
| --- | --- | --- |
| | | |
| | | |
| | | |
| | | |
| | | |
'In the Last Homely House you shall find rest and refreshment from your long road.'
| | | |
| --- | --- | --- |
| | | |
| | | |
| | | |
| | | |
| | | |
Master of Rivendell, son of Eärendil and Elwing, Elrond is Middle-earth's wisest master of lore and healing. Ancient even amongst the long-lived Elves, the regal and commanding Elrond wears the greatest of the three Elf-rings, Vilya, the Ring of Air, given to him by the great Elf-king Gil-galad. Known throughout Middle-earth for his wisdom and leadership, it is Elrond who gathers the Nine to become the Fellowship and charges them with the task of aiding Frodo in his quest to destroy the One Ring. He is friend and ally to those who stand against evil in Middle-earth, although the weariness of carrying the weight of the ages-long struggle can be seen on his noble face.
In LOTRO, Elrond stands as a powerful force in aiding the Free Peoples in their struggles against the gathering darkness. In the refuge of Rivendell (called Imladris in Sindarin, the language of the Elves), nestled in a protected valley at the foot of the Misty Mountains, players can seek refuge to rest and heal and gain the knowledge and guidance of Elrond and his people.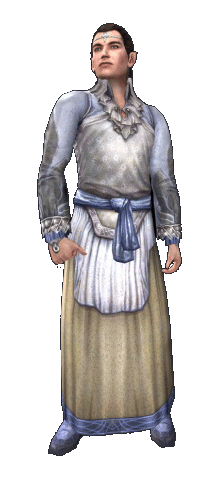 Comments? Post them on our forums!
Elrond
Quick Facts
(Aragorn was a descendant of Elrond's brother
Elros through many generations of Men)
One of the greatest Elves in the history of Middle-earth, Elrond was born late in the First Age. While still a child, he and his brother Elros were taken captive by the sons of Fëanor, but one of the brothers took pity on them and released them. When they were rescued, Elrond was found playing in a cave beneath a waterfall, and so received his name.
Both of Elrond's parents were half-elven, and after the climactic battle of the First Age he was given a choice; whether to be counted amongst the kindred of Elves or of Men. He chose the Firstborn, and remained in Lindon with High King Gil-galad.
After the invasion of Eriador by Sauron in the mid-Second Age, Elrond founded a refuge there in a deep hidden valley; this was named Imladris, or Rivendell in the Common Speech. After Sauron's defeat by Tar-Minastir of Númenor, Elrond remained in Rivendell, where he prospered with the aid of the Great Ring, Vilya.
Elrond played a great part in the histories of the Second and Third Ages; he marched with Gil-galad and Elendil to the War of the Last Alliance, and was a leading member of the White Council. At the time of the Council of Elrond in 3018 (Third Age), he had dwelt in Middle-earth for some 6,500 years.
Footnotes
| | |
| --- | --- |
| 1 | Though he is known as 'Half-elven', Elrond's lineage is much more complicated than that title suggests. He could claim descent from all the main branches of the Eldar, each of the Three Houses of the Edain, and even from the ancient spirits that descended into the World at its beginning. |
| 2 | There are various different interpretations of Elrond's name. As well as 'Elf of the Cave', the name is also interpreted 'Vault of Stars' and 'Star-dome'. |
Player Entry