NPC:Radagast the Brown
Official Game Entry
'In your travels through the swamps did you happen upon a squirrel? A small red fellow, he should have returned almost a fortnight ago.'
| | | |
| --- | --- | --- |
| | | |
| | | |
'In your travels through the swamps did you happen upon a squirrel? A small red fellow, he should have returned almost a fortnight ago.'
| | | |
| --- | --- | --- |
| | | |
| | | |
Wandering from town to town, though most often found in the wilderness among the birds and beasts, Radagast the Brown appears to be an unassuming old man with a great love for the plants and wildlife of Middle-earth. While he does bear a deep affinity for the natural world, this hermit from east of the Misty Mountains is far more than his simple attire and quiet mannerisms convey. In truth, he is a powerful Wizard of the same order as Gandalf the Grey and Saruman the White, and Radagast's powers are mighty, indeed.
Although he dwells in Rhosgobel on the edge of Mirkwood Forest, Radagast has been seen throughout Eriador of late, following strange purposes that he keeps to himself. Travelers who encounter Radagast need not be alarmed, however, for he is no friend to the dark forces rising in deepest Angmar; rather, his intentions are good and his actions most often work to the betterment of the Free Peoples of Middle-earth ... or at least of the beasts who live alongside them. Much can be learned from Radagast, especially about the wilds of Middle-earth and all the living things found there.
Radagast is mentioned only occasionally in The Hobbit and The Lord of the Rings, though it is clear that he is a Wizard of great power who has walked Middle-earth for centuries, much like Gandalf and Saruman. In The Lord of the Rings Online: Shadows of Angmar, the design team at Turbine carefully approached the task of bringing Radagast to life, since he is indeed one of Middle-earth's most powerful characters, yet his powers, beyond the ability to speak with animals and to understand nature, are only vaguely identified, as is his overall role in the War of the Ring.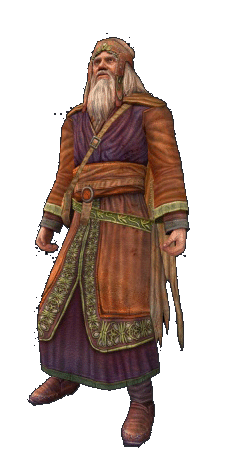 Comments? Post them on our forums!
Radagast
Quick Facts
One of the Five Wizards, Radagast was said to have been the fourth of the Wizards to appear in Middle-earth. Like all his order, he carried a rod and had a distinctive colour (in Radagast's case this was Brown). In his earlier life in Valinor he had been a friend to beasts and birds and the living things of Middle-earth became his special province2. He also had great knowledge of plants and herbs, and apparently possessed the ability to create illusions.
Like the others of his order, Radagast had been charged with aiding Elves and Men in their coming struggle against the Shadow. Once in Middle-earth, Radagast came to prefer to company of animals and birds to that of the people he was sent to aid, and he ultimately achieved very little. He settled at Rhosgobel, near the southern borders of Mirkwood, in a location close enough to Dol Guldur to suggest that it may have played a part in the attack on that fortress by the White Council in III 2941. At some point later in history he abandoned this homestead.
In the War of the Ring, Radagast played almost no part. His only action of any consequence was to send Gwaihir with news to Orthanc, thus unwittingly aiding Gandalf's escape from the Pinnacle. He may also have had some role in sending the Eagles at occasional crucial moments in the War (especially in the final battle at the Gates of Mordor) but if so his actions are not recorded.
We know nothing of Radagast's fate after the Fall of Sauron. Though he failed in his purpose to kindle resistance to the Dark Lord, it is not said that he was banned from returning to Aman, and it seems likely that he did so at some point. It is not beyond the bounds of possibility, though, that he remained among his friends the wild creatures of Middle-earth.
Footnotes
1

There is a suggestion that Tolkien intended to change this derivation and bring Radagast in line with the other wizard-names Gandalf and Saruman, by associating it with the old language of the Men of the Vales of Anduin. No alternative meaning is provided (indeed, Tolkien stated that the name was 'not now clearly interpretable'). One possible source (a somewhat unfounded conjecture) would be Old English rudugást, 'brown spirit' (rudu strictly means 'red' or 'red-brown' - it is the source of the modern word 'ruddy').

Some other sources suggest a connection between Radagast's name and certain old European deities, particularly the Slavic god known as Radigast or Radegast. If Tolkien meant for such a connection to exist, he failed to record the fact.

2

Radagast's affinity for the creatures of the wild was not unique, and seems to have been shared by the other Wizards to some extent. Gandalf could certainly also communicate with birds and animals, and Saruman could apparently use birds as his spies.
Player Entry