Quest:Claws of the Earth
Official Game Entry
Quest: Claws of the Earth
Category: Angmar
Scope: n/a
Minimum Level: 35
Description
Reko, the Earth-kin hunter, desires the beaks of Blade-beak Ravagers, though for what, the creature would not say.
Bestower

Reko
(NPC)
'You there...you help Reko?

'Ravager claws. No, how do you say it? Beaks? Like birds? Yes, Ravager beaks.

'You go get Ravager beaks. I will give you shiny pieces of metal taken from Orc-folk. Many Blade-beak ravagers not far.'
Objectives
Objective 1:
Blade-beak Ravagers can be found throughout Ram Dúath.

Reko has asked you to collect the Blade-beak Ravager beaks he desires.
• Bring the Blade-beak Ravager beaks to Reko at Lehmä-koti. (
Reko
)

Player Entry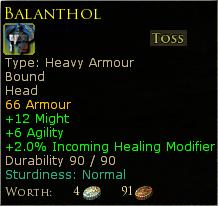 You need JavaScript enabled for viewing comments