Quest:Shadow of the White Hand
Official Game Entry
Quest: Shadow of the White Hand
Category: Bree-land
Scope: n/a
Minimum Level: 10
Description
Your discovery supports what Grimbriar's spy has been telling him. Grimbriar has arranged an exchange of important papers.
Bestower

Chief Watcher Grimbriar
(NPC)
'I have a spy among the brigands who may be helpful in divining the true nature of this Sharkey. I will send him a message instructing him to come to a certain hill not far from here. Meet him there and ask him about Sharkey and his plans.

'The meeting place is by a grey rock in a small stand of trees directly north of Bree-town.

'If my spy has no news to share, we will need to find another means of learning Sharkey's plans.'
Objectives
Objective 1:
Grimbriar's spy will meet you by a grey rock in a stand of trees, north of Bree-town.

Grimbriar has sent you to meet a spy he insinuated into the ranks of the brigands in hopes that he will reveal information about Sharkey and his plans.
Objective 2:
Watcher Grimbriar can be found at the stone house near the crossroads outside of Bree.

The spy's notes further supported the brigand's letter, verifying that Sharkey is no brigand himself, but an influential man of the south. Grimbriar must know.
• Talk to
Chief Watcher Grimbriar

Player Entry
Spoiler
---
You will need to protect the spy from 3 Brigands. Do not let him die.
This is the large rock, notice the hand print. If the informant is not there, wait a couple minutes he will soon appear.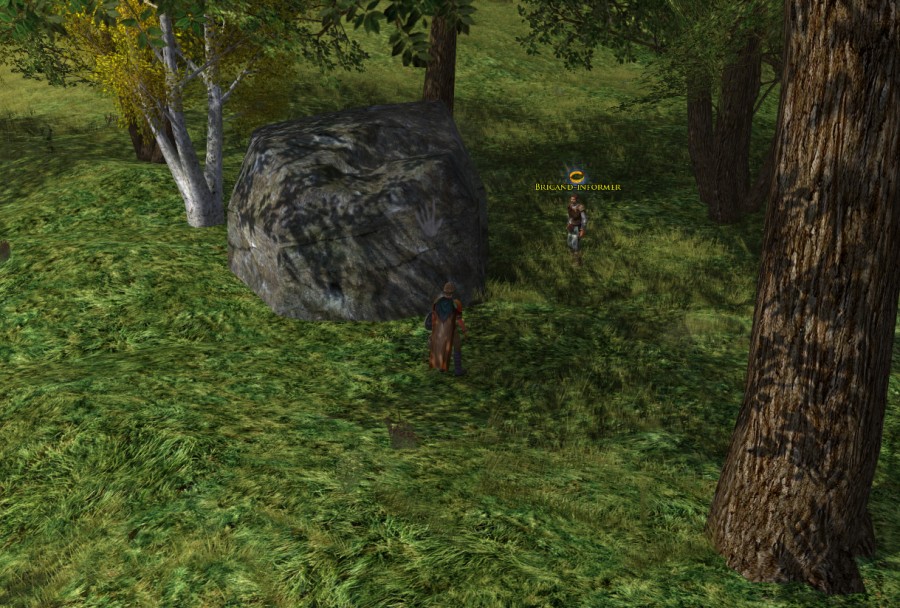 You need JavaScript enabled for viewing comments