Quest:Stolen Skulls
Official Game Entry
Quest: Stolen Skulls
Category: Angmar
Scope: n/a
Minimum Level: 37
Description
Aurochs skulls apparently have some significant meaning to the Earth-kin of the Suuri-lehmä, and some have been stolen from them.
Bestower

Santtu
(NPC)
'Many years ago, we brought with us from the South some skulls of lehmä -- what you little people call aurochs. Very important skulls. The skulls honour Suuri-lehmä.

'Jorthkyn take the skulls on path through Ram Dúath to see new sights in this place. This must be done every year. This year, our brethren did not return. Scouts say that Orcs killed Jorthkyn and took the skulls. Orcs are in a strong place in the east side of Ram Dúath.

'Bring back a skull from the Orcs. Maybe they are in their strong place called Skathmur?'
Objectives
Objective 1:
The aurochs skulls are likely in Skathmur in the eastern part of Ram Dúath.

Santtu has asked you to recover a stolen aurochs skull.
• Bring the aurochs-skull back to Santtu at Lehmä-koti (
Santtu
)

• Collect Aurochs Skull (1
Aurochs-skull
)

Player Entry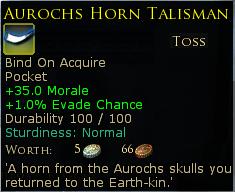 You need JavaScript enabled for viewing comments