Sâri-surma
Player Entry

Original content created by community member:
Colred
This instance is part of the In Their Absence set (directions on how to find the instance to unlock it are on that page).
Glacier Fortress
General notes
Any good, properly-geared group of lvl 65 toons should be able to take down this dungeon on Tier II with some practice. Do Not Fall to Frost is a game changer in Sari-surma, so RKs should absolutely pick up a frost stone if they don't already have one. In addition, ranged DPS and back-up heals are extremely helpful (though not 100% required). Finally, the role of Off-tank is an important one in this instance, so designate someone as OT ahead of time for each portion of the run.
There are jumbled stacks of rocks with a small steam vent at the top spread throughout the instance. If you stand close to them, you'll see a little candle "warmth" buff. If you stand there for 10 seconds, the vent will apply a 1-hour buff to you that protects you from some of the minor frost effects in the dungeon. These vents are available before every boss fight. Use them.

Nearly every mob and every boss is more susceptible to fire than any other damage type.
Sari-surma
There are 3 types of mobs in the run to the first boss: 1. Frost Grims - like elsewhere, Frost Grims are tough, but straight forward. There will be a main Grim and a minion Grim. Take these on away from other mobs and you should have no problem.
2. Wights - the wights start frozen in ice, but will break out and attack you at certain intervals. You'll have to learn where these intervals are as you go. Generally, if there are wights near the bears, you're best off range-pulling the bears first.
The wights die very quickly, but apply a buff/debuff effect on anyone they touch called "Covered in Wight Parts." Each stack increases melee damage by 200% but reduces ranged and tactical dps (and healing) to 0%. This effect lasts 20 seconds and explodes upon expiration, causing heavy, non-removable wounds on Fellows within 10m.
3. Bears - there is 1 matron and 2 cubs in each group. The cubs get a 50% damage bonus while the matron is alive. The matron gets +200% damage for each cub that dies while she lives.
Strategy: We had a lot of success killing one cub, then killing the matron, then the last cub. If you have an LM, you can mez-pull on the matron and kill the cubs and she shouldn't get the buffs.
Note* A ghost-matron will appear after you kill the matron. This ghost will not enter combat unless you damage it, but it will heal any cubs near it. Either way, it will disappear after 1 minute or so.
Coldbear the Wight
Coldbear is back as an undead wight. When you walk through the tunnel, he will begin to talk and a gate will rise behind you. Another gate will rise across the room to the right. The fight will start about 10 seconds later. Take note of the 4 groups of wights around the room. The far gate across the room is a "safe zone" you will need in Phases 2 and 3. This fight can be reset if the person with aggro drags Coldbear back to the entrance gate. If your group experiences a death in Phase 1 or 2, resetting the fight is probably the best idea.
Coldbear, Phase 1
Coldbear will cast 4 effects during Phase 1:
Retaliation: Coldbear takes only 10% of damage, reflecting the remaining 90% back at you. This looks like a red glow similar to the shield on the Brutes in SG. The shield is up for 10 seconds, then down for 30 seconds. Coldbear will only use his shield in Phases 1 and 2. In Phase 3 (the ghost phase), you will not need to worry about the shield.
Coldbear's Dish: When Coldbear rears up and says either "Stand still!" or "This scurrying around must stop!", he will apply an AoE effect around him that does high damage and slows movement speed by 75%. Run away as soon as he rears up to avoid it.
Coldbear's Revenge: When Coldbear says "You will stand still and take it!", he will lower the main tank's BPE to zero for a short time. The off-tank must pull off Coldbear from the main tank until the effect wears off.
A frost DoT that can be removed with a wound potion.

Strategy
Have your MT walk in and start the fight. Healers/ranged DPS should stand just far enough into the room to have line-of-sight of the whole room. Stay at least 5m away from the wight group on your left. Melee classes should get behind Coldbear, or be on the side of him closest to the safe zone gate.
Phase 1 is a very simple tank & spank. Tank calls "shield up/shield down." Don't hit while shield is up. Otherwise, enjoy the interesting voice work. Phase 1 ends when Coldbear reaches 50% morale (58k or so). He will exit combat for about 2-3 seconds, then re-enter and start Phase 2.
Phase 2
Phase 2 is exactly like Phase 1 except with one very important difference.
"Embrace the Frost!!" - Coldbear will say this then cast a non-removable frost dot (called Frost Shards I believe) on a player without aggro. This dot's icon is a white snow-flake with a small red dot of blood on it, all on a blue square background. It hits for 2.8k every 5 seconds for 15 seconds. With practice, your RK may be able to time his/her Do Not Fall to Frost to prevent this dot. The difficulty is nearly every attack in this fight is frost-based, and there is another, smaller dot that Coldbear will put on in Phase 3 which will complicate matters. Groups should assume their RK will not be able to negate this dot and act accordingly.
Strategy
Coldbear will cast his dot every 30-45 seconds or so. Without Do Not Fall, the only way to deal with this dot is to heal through it. This is how we did it:
notice Coldbear has said "Embrace the Frost!!"
everyone checks their buff bar and announces who received the dot.
healers spam heal the person with the dot. That person should have a morale pot ready as well.
person with dot quickly moves over to the "safe zone." This is because the dot will spread upon expiration to any players within 10m. Remember that you may be slowed, so get moving! Once the dot expires, that person can re-enter combat.
Phase 2 ends when you kill Coldbear. Coldbear's ghost will spawn and start Phase 3.
Phase 3
No more damage shield. Instead, you will have 4 new problems.
Coldbear will declare "I need more Power!" then walk over to a random player and suck that player's power. Aggro will not swap.
Coldbear will make the room shake for 1 minute. This applies a minor frost dot on everyone. The animation is pretty violent, so it can be slightly disorienting until you get used to it.
Coldbear uses an AoE stun. (He says something here, but I forget what.) Everyone within 10m of Coldbear will be stunned.
All wights are now "active." They will not enter combat on their own, but if anyone gets too close, they will pop.
Strategy
Proper spacing is critical during this phase. The MT should keep his/her back against the wall where Coldbear spawned. Healers should be near the entrance gate, as far back as possible while in healing-range of the MT, maintaining LOS on the safe zone, and staying away from the wights. If Coldbear moves to draw power, the melee classes should stay put. Aggro won't swap. Heavy ranged DPS hitters should back off during this time so that aggro won't swap. Coldbear will return to the tank after 7-8 seconds. When the stun hits, all melee classes will be stunned. If the healer/ranged classes are in the right place, they won't be stunned and can continue to heal.
Successfully dealing with Coldbear's dot is the key to this fight, as nothing else is likely to kill you. Phase 3 ends with Coldbears (second) death. Congrats!
2 notes: remember you can reset this boss. Also, Champs may consider
deliberately activating wight groups. 3 stacks of Wight Parts will grant a +600% melee damage buff. This can speed up the Phase 3 fight, but will add some complexity to an already complicated fight. I suggest avoiding the wights until you've successfully complete this fight a few times at least.
Coldbear to Osan
You'll head through through a tunnel until you come to a long hallway with a high ceiling. At the end of this hallway is the boss room. There are 4 pathing mobs and 2 static mobs to clear.
4. Fanatics (x2) The fanatic is a goblin who summons a whirlwind that can punt you. The Fanatic also has a damaging frost aura that extends about 5m. Fanatic aggro acts like they're partially enraged. You'll have to see it to understand.

5. Legionnaires (x4): The Legionnaire is a giant wight that throws boulders and can apply a bleed, stun or punt. When he pauses to raise his arms, move behind him to avoid his special attacks.
Strategy
Range pull the pathers one at a time back into your hallway, to avoid being punted into the pit. All mobs can be riddled or bane-flared if you get more than one. Tank & spank the two in the pit.
Osan
Once you're in the pit, you'll notice a few things. There's a pedestal right in front of you. Behind that, Osan stands blocking a gate. Above you, along the edge of the wall, are 13 mobs. On the outside are groups of Fanatics and Legionnaires. The center mob is the final boss. You won't have to fight him here. Flanking that boss are 4 lieutenants. You will need to kill all 4 lieutenants before killing Osan in order to progress in the Challenge mode. You start the fight by touching the pedestal in the pit. Osan will then walk up and smash it (don't stand too close or you'll get a nasty bleed for 1 minute), and enter combat.
The Fight:
During the fight, Osan will summon waves of wights. These wights do not apply the Wight Parts effect, but each wight that's alive will grant Osan a different buff, up to 4 total. The Red buff grants Osan an AoE attack that will apply a non-removable bleed to everyone in range. The Blue buff allows him to cast a slow.
The Green buff allows him to heal himself or the adds. The Yellow buff doesn't seem to do much. You may get a removable disease late in the fight, but this seems to come from one of the lieutenants. At spaced intervals, the elite Legionnaires and Fanatics will drop in one at a time. At greater intervals, the lieutenants will drop in.
The Revenge Meter: For each add that the group kills, Osan adds one tier to his revenge meter. This icon is crossed swords on a red square background. When the meter reaches tier 5, Osan will say "Now you will all die!" and raise his arms above his head for about 3 seconds. He will then pound the ground 3-4 times, causing 1-6k worth of frost damage per hit. Osan may delay this attack for a short time after the revenge meter hits tier 5.
The Eyeball corruption: I forget the name of this skill, but it's very simple. One player will get a blue eye above his/her head. 15 seconds later, it will expire and kill that toon. You can avoid this by removing the corresponding corruption from Osun. The icon looks like an eyeball. Osun casts this corruption at irregular intervals. You might get 3 in a minute, then none for 3 minutes.
The fight ends when all the mobs are dead. When a lieutenant is killed, Osan gets the corresponding buff permanently.

Greater Aura of Frailty
Something about killing someone, permanent essence of frost?

Aura of Death
Someone nearby is aiding the
giant as he tries to destroy you.
Greater Aura of
Mortality
Killing Wil Wheatly has caused
Osan to permanently use
Essence of Mortality against
you.
Greater Aura of
Blood
Killing Olwir has caused Osan to
permanently use Essence of
Blood against you.
Strategy
There's a lot going on in this fight, but it's all one long phase, so I'll describe it by job.
Tank: Your main job is to hold onto Osan. In addition, you need to help direct everyone else based on what you see on Osan's buff bar and actions. For the most part, you can ignore the wight buff types. The icons are more helpful as indicators of when wights drop in and how many there are.
I've found it best for the tank to act preemptively when it comes to the Revenge meter. If the revenge meter is at 3, and you see 3 wight buffs, call out "When the wights are dead, we'll be at 5!" That way people know in advance to expect the Revenge attack. (Extra kills do not push the meter past 5). Then announce the attack again when Osan raises his hand - "Big attack. Get away!" The attack can be avoided by getting 10m or more away from Osan. A properly timed Do Not Fall to Frost may negate this attack, but it's best to run to be on the safe side.
Everyone needs to call out the eyeball corruption when they see it, but the tank is most likely to see it on Osan's buff bar. A corruption removal rotation should be designated beforehand. Warden tanks can make this a breeze. The tank can mostly ignore the adds that drop into the pit. If a wight aggroes onto you, just kill it. When the lieutenants start dropping in, you need to pick them up and hold them. You should be able to hold Osan and one lieutenant without a problem unless you get unlucky bleeds.
Healers: You're going to get hit a lot during this fight. Osan and the Legionnaires will toss boulders at you, regardless of aggro. These are all frost attacks, so Do Not Fall to Frost can be extremely helpful. In addition, almost all the wights, Fanatics, and lieutenants will aggro onto you. Do not hesitate to kite and call for help. Work out a system with your Off-tank ahead of time. Our healers usually stand on the snow-pile just to the left of Osan. It's a good place for healing, and usually far enough away to avoid his AoE.
Off-tank: A Champ, OP-Guard, or Spear-Warden is perfect for this role. You will be very active. In fact, it might be useful to split up the OT responsibilities between two players.
Job1: Pick up the elites that drop in. They will drop in the front left or right corners only. When they do, you need to know it and pick up their aggro right away. Burn them fast.
Job2: Pick up wights off the healer(s). The wights go down fast, but they hit fairly hard while alive. Any time "Osan calls for reinforcements" or the MT calls out that there are wights coming (he'll know from the buffs), make a beeline for your healers.
DPS: This fight is sort of a dps race. You don't need to kill the boss quickly, but you do need to kill the elites as fast as possible so they don't begin to pile up. Burgs, remember the elites can be riddled. Always take down elites in order. If an elite drops, that's always top priority. If a second elite drops, mez it or have a dps (preferably ranged) pick it up, but keep burning the elite you're on. If there are no elites up, kill the wights. If there are no wights up, hit the lieutenants. If there is nothing up, hit Osan.
3 Notes : Each lieutenant is tied to one color of buffs. When each lieutenant dies, his/her buff gets applied to Osan permanently. Killing wights will no longer remove that buff. Since the bleed (red) buff is most dangerous, we generally kill Olwir (the dwarf lieutenant) last. That way, there's the least chance Osan will slap a bleed on us.
If your Fellowship has no typical OT class but you have a Hunter, you can try having the Hunter range-tank Osan. Your Guard/Warden can then tank the adds. Likewise, a Warden can kite the entire room fairly easily if necessary, and Osan will not initiate his Revenge attack unless his target is in melee range for 2 or 3 seconds. If you don't mind kite-tanking, this can make the fight much easier (just remember to watch for the eyes).
If everything goes bad, you can also reset this boss fight by dragging Osan up to the top of the stairs. This is not easy, because Osan uses a lot of ranged attacks. In addition, there are whirlwinds at the tops of the staircases that will punt you. Best option is to get as close to the top as you can (maybe 5 steps down) and keep fighting whatever's there. I don't know if Burgs can enrage Osan, but it would be worth a try.
There is no trash to the next boss. Walk through the zone and stop.
Drugoth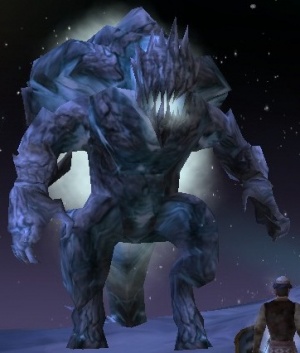 When you enter, you'll see two "Guardian" Caeryg by the door. The boss is in front of you. There are 6-8 stones in a ring around the platform. You will die if you fall off the edge. You may also see a whirlwind - these cause minor damage, can punt you, and will silence you for 10 seconds. If you stand "behind" a stone (roughly a 180 degree arc) you will receive a Protected buff which will shelter you from these whirlwinds. The buff icon is easy to recognize -- it is the same buff icon which, if you see it on Gaerdring (one of the final bosses in the Great Barrow Maze instance), means you should STOP hitting him.
Phase 1
You can circle around the platform, staying behind the stones, to get in order if you'd like. When you're ready, walk up to Drugoth to start the fight.
The Guardian Caerygs will enter combat first. They can apply a removable poison dot, do melee frost damage, or punt. Drugoth will never move from his original spot, but he has a nasty ranged attack he will use if any players are out of melee range. Starting in this Phase, and continuing throughout the fight, Drugoth will perform several actions after saying certain lines (paraphrased below for brevity).
"You are not worthy to stand near me" or "Get away from me" - Drugoth will punt you. He punts you far. To be safe, keep your back to the door, or to the left side of the platform – that side is twice as long as the right side.
Phase 2
Around 170k or so.
"Run and Hide" or "Freeze in Place" or "In/Out of my sight" - simply put, if he EVER says anything running or hiding or freezing – go run and hide behind a pillar or you'll be hit by a freezing attack. These attacks are frost-based and the damage can be negated by Do Not Fall to Frost. However, these attacks will also stun you for 12 seconds, and that stun cannot be negated.
"I summon you!" - Drugoth is summoning a bunch of whirlwinds to him. Again, prepare for a punt, and get ready to be silenced. The silence can be removed with a fear pot.
"To me!" - Drugoth will yank you forward toward him, just like the toads in the waterworks. If you are safe from other punts, move around Durgoth so you get yanked to safety rather than over the cliff edge (so that you get yanked to him instead of over his head and possibly over the cliff).
"Give me your skills!" - Drugoth will pick a player and mez-lock him/her with two beams from his hands. Two spirit will come up out of the ground that will utilize special skills they steal from the mezzed toon.
Burglar -- the spirits will riddle.
Captain -- the spirits will plant a banner which will give the fellowship a major fear debuff and deal heavy shadow DoT until the banner is destroyed..
Guardian -- the spirits will reflect 90% of any damage Drugoth takes back to the person who inflicted it.
Loremaster -- the spirits will stun.
Minstrel -- the spirits will heal Drugoth.
Rune-keeper -- AoE stun
Warden -- Drugoth gets a super version of Onslaught (a triple attack)
I've noticed Drugoth rarely uses the "Get away from me" punt after the first minute or two of the fight. He may replace it with the "To me!" yank instead. This will need confirmation.
Strategy
Doing Challenge mode without an RK or Hunter is more difficult. Some groups put their backs against the cliff and kill the Guardians in melee combat. I prefer having ranged dps kite them, so I will explain that strategy.
Move left along the cliff wall, then clockwise until you're standing near the second stone. Drugoth won't activate until you close within about 6-7m of him. Designate your Guardian-killers beforehand. In Challenge Mode, the two Guardians will actually enter the fight before Drugoth. They move VERY slowly, but they will punt anyone within their range regardless of aggro. They may also apply a poison, so everyone should have a few poison pots handy. The more ranged dps, the better.
Have your tank start the fight, then back up to the group (to get clear of the Guardians). When the Guardians activate, ranged DPS unleashes on both of them to grab aggro. A few seconds later, Drugoth will enter combat. Melee and healers should close to melee distance and start fighting the boss. Remember that you may be punted right away, so keep your back to a safe spot (the cliff face or the side you started from).
Healing during this part of the fight will be toughest because Drugoth will be using his ranged attack, which hits harder and faster than his melee attacks, and punting. Everyone should be ready to use pots here. Healers, if you get in trouble, drop your big heals. Healing should get easier once the Guardians are dead.
Ranged DPS – kite the Guardians, but listen for calls from the main group. If there's a "Run" or "Hide" make sure to break Drugoth's line-of-sight with a pillar. The Guardians only have 29k each, so you should be able to burn them pretty quickly. If you reach the far side of the platform, just turn around and go back. If the Guardians come through the melee group, the group should scatter just to be safe from punts.
Once the Guardians are dead, the ranged players should close to within melee distance of Drugoth. This should limit his ranged attacks for the rest of the fight. From this point on, all you have to do is make the proper calls based on Drugoth's announcements. Break LOS when you need to, kill the spirits when they pop, don't get punted off the cliff, and you should be good.
Note: This fight cannot be reset. Keep fighting until you're victorious or dead.
Congrats! You've defeated Sari-surma Tier II Challenge mode!
Please feel free to ask questions or leave comments. I'll be refining this guide as information comes in.
Link to Forums Thread
You need JavaScript enabled for viewing comments