Skill:Cracked Earth
Player Entry
Additional Skill Information
Cracked Earth has a 2-part effect: The immediate effect upon casting is AOE fire-based damage. The secondary effect is an AOE root that occurs exactly 10 seconds later. The resistance check for the root component is applied individually for each foe, so one or more mobs might not be rooted successfully.
Tips for using Cracked Earth as a pulling technique:
From the extreme range at which you can cast Cracked Earth, target the foe in the group that you think you might also want to mez first, such as a troublesome ranged foe.
Turn around 180 degrees and face the direction that you want to run (kite).
Cast Cracked Earth and hold down your run foward key so that you'll start running away from the group of foes as quickly as possible.
Watch your targeting bar while you are running away. After 10 seconds the cracked earth icon changes to a shadowy silhouette of a foot. This indicates that the root component has taken effect.
Turn and assess the situation. Usually all of the foes have been successfully rooted. The root effect lasts for 30 seconds.
Cast Blinding Flash on your original target if none of the other foes have resisted the root component. Otherwise you might choose to instead cast Blinding Flash on a foe that resisted the root component.
Wait 15 seconds for Blinding Flash to recharge, then cast it on a second foe in the rooted group. You now have two foes in the rooted group mezzed, and you can keep them permanently mezzed due to the fast recharge time of Blinding Flash.
Proceed to wake up the non-mezzed foes in the group and deal with them accordingly. Remember not to use AOE damage on those foes until they have moved far enough from the two mezzed foes.
Notes
Because pet commands are still somewhat bugged, the following tips are useful to ensure your pet does not inadvertently attack and therefore wake up a rooted mob:
Ensure that your pet is in Passive mode
Ensure that the "Attack my target" command is not active.
Until Turbine fixes the command responsiveness of pets, in general it is best to keep your pet on passive at all times and to manually send it in to attack.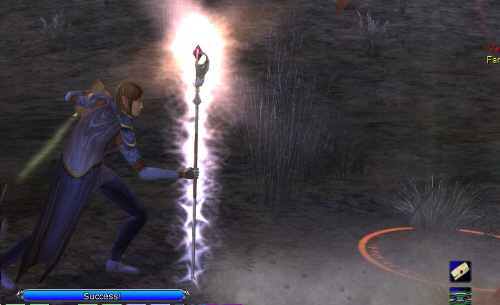 You need JavaScript enabled for viewing comments