The Ettenmoors Minstrel: Builds and Strategies
Player Entry

Original content created by community member:
Romoen
The Ettenmoors Minstrel: Builds and Strategies
The information found in this guide has been derived from 3+ years playing as well as tips and strategies discussed in-game, in various threads on these forums as well as specifically the Landroval boards. I thank all those involved for their input!
When looking at the Minstrel, they have extreme versatility in the game which is highlighted in PvMP. The roles they may fill tend to fit into three categories: the Raid Healer, the Tactical Offense and the Balanced Minstrel. Below I will be discussing these three forms of the Minstrel class, touching on how they differ and then highlighting the gear for my Minstrel of choice, the Balanced Minstrel. Additional input on the other two remaining builds would be greatly appreciated as neither are my specialty in PvMP.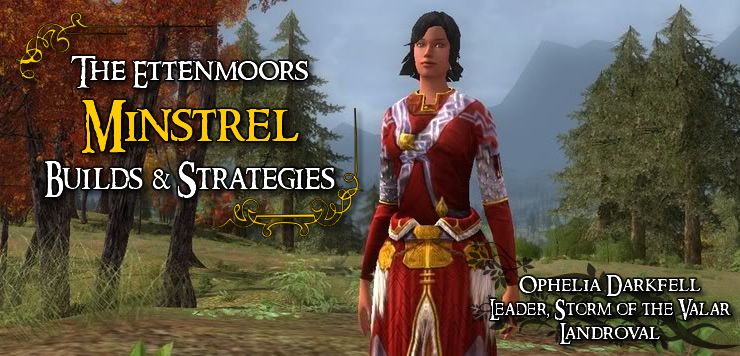 The Balanced Minstrel
Geared and traited to allow for a balance of healing, buffing and dps in small groups and raids while sustaining heavy fire.
After trying different builds and finding there are too many occasions where varying situations arise that I'm unprepared for, I have chosen the balanced Minstrel as my ideal build for the Ettenmoors; focusing significantly on morale, defenses, dps and Ballad of War. The high morale has often been a topic discussed to death with people on all sides of the debate, but it has been my experience that not only is it great to have that extra padding of some additional hit points, but as your opponent is tabbing through targets, they're less likely to stop on those with high morale.
Click Here for a Screenshot of My Stats
What I'm Wearing
Please keep in mind this is raid gear up to and including Dar Narbugud and fellowship instances in Mirkwood (no Barad Gularan 12-man gear) so if you are not in a position to acquire this gear, be sure to see the section on gear for the casual gamer.
Future Gear Upgrades: I am currently trying to get hold of Ernil (Dungeons Hard-Mode) and Faeringor (DN) to exchange for my two Glowing Aureate items. Curunechor (HoC) is also a great bracelet and is possibly better for this balanced build than Lorechor. If min/maxing was all one had in mind there are several other options for swapping out the gear but frankly I'm too lazy.
Legendary Items (Pool A or B)
Weapon:

Personal preference, but recommend Mace or Club for the chance to slow speeds.

Damage Type:

Beleriand + Orc (Lothlorien)

Legacy Focus:

Piercing Cry (A), Triumphant Spirit Cooldown (A), Call to Fate *Critical Multiplier (B), and Tier 1 Ballad Damage (B)

Additional Legacies to Look out For:

Recovery Time Still as Death (B) and Call of Orome Damage (A)

Class Item:

Songbook

Legacy Focus:

Healing and Motivation Skills Morale Healing (A), Bolster Courage Healing (A), and Ballad of War Magnitude (A)

Additional Legacies to Look out For:

Chord of Salvation Cooldown (B), Inspire Fellows Healing (A), and Healing Skills Power Cost (A)

Relic Focus:

Base Stats (Vitality, Morale, Will, Fate, Power), Tactical Offense/Critical, and Melee Critical Defenses
Future LI Upgrades: As it stands, I am using a Level 60 Second Age Book, disallowing the use of tier 9 relics or the level 65 crafted relic. Those alone should boost my stats so as I update those I will be updating this to match the changes.
Traits: Virtues, Race, and Legendary
Virtues (10): Loyalty, Fidelity, Valour, Justice, and Innocence
Keeping a strong emphasis on morale, resistances, mitigations and defenses. All virtues should clearly be capped. There is debate on whether or not some of these virtues could be swapped out as this is a much less diverse virtue line with the majority of focus on morale, however I'm very firm in my opinion a large morale pool is key to survival.
Race: Man of the Fourth Age, Strength of Morale, Balance of Man, 2 Additional
The race traits will clearly be adjusted based on what race of Minstrel you are, but as a Race of Man; Man of the Fourth Age, Strength of Morale and Balance of Man are non-negotiable choices. Beyond that it would depend on if you frequently play with a Burglar (Tactics and Might Bonus) and/or if you use a sword (Man Sword-Damage Bonus.) Personally, I prefer the mace.
Legendary: Rally!, Fellowship's Heart, Anthem of the Wizards
As the balanced class role, I really see no room for a full trait line allowing capstones.
Traits: Class
Warrior-Skald: Enduring Morale, Harmonious Melody, Light in the Dark, Unrelenting
Protector of Song: Strength of Voice
The Watcher of Resolve: Focused Performance, Power of Song
As you will be focusing on both healing and buffing your group as well as dps, the choices for these traits are rather straight forward; Ballad of War being what led me to choose Harmonious Melody and Strength of Voice. Also, I decided that while I wasn't in War-Speech that often (if sometimes at all), the set bonuses from 4-Skald deep (+25% WS ballad damage and +10% Ballad of Resonance magnitude) were significant enough to maintain 4 traits in that line. There is room for change, but again I feel these traits allow for a good balance of healer, buffer and dps.
----- ~~ ----- ~~ ----- ~~ ----- ~~ ----- ~~ ----- ~~ ----- ~~ ----- ~~ -----
The Raid Healer
Geared and traited to allow for sustained healing in a raid setting.
If accepting a position as a healer in a raid and nothing else, the changes to your gear and trait line-up will be significant. This build would rely on others to protect you, giving you room to do your job to the fullest. Do keep in mind, however that despite your role as the healer, this is not PvE so maintain an interest in stacking morale to provide yourself with a cushion of room between being attacked and death.
Gear Exchanges: I would swap all jewelry to my PvE sets (I can list these if you are interested), swap to my PvE weapon, as well as equip the Lady's Grace Pants and Chest for the 5-set bonus but continue using the Gloves of the Mighty Verse.
Virtue Exchanges: Fidelity and Innocence for Wisdom and Idealism
Class Trait Exchanges: Light in the Dark for Life Singer and if you're very confident, Unrelenting for Graceful Demeanor
(Note: While others will disagree, I do not recommend Smooth Voice as there is constant movement likely to prevent you from either a) being able to hold through the induction b) not get interrupted through the induction or c) successfully buff your fellowship as they move in and out of range.)
----- ~~ ----- ~~ ----- ~~ ----- ~~ ----- ~~ ----- ~~ ----- ~~ ----- ~~ -----
The Tactical Offense
Geared and traited to allow for maximizing dps, with little to no emphasis on healing.
I'll admit from the start, this build is far from an area I've even bothered working toward. Aside from either focusing on morale or focusing on a strong PvE Minstrel builds, I'm not sure which items allow you to build your tactical offense greatest. Class traits however are simple.
Class Trait Exchanges: Focused Performance for Powerful Voice
Legendary Trait Exchanges: Rally! For Call of War
Additional Legacies to Look out For: Call of Orome Damage (A) and Call of the Second Age Targets (B)
Relic Exchanges: Devastate Magnitude
Instrument Exchange: Exquisite Elegant Drum
----- ~~ ----- ~~ ----- ~~ ----- ~~ ----- ~~ ----- ~~ ----- ~~ ----- ~~ -----
Light Armour vs. Medium Armour
The Minstrel Question: Is Medium Armor worth Slotting the Trait?
Back during Shadows of Angmar I did an extensive test on two identical sets of armour, one medium and one light to show the value in the trait. However since SoA, Turbine has yet to come out with a medium set of armour that regardless of base stats, has enough benefit to it to compensate for the loss of set bonuses that come with the radiance gear.
Despite this seemingly obvious choice, I didn't want to dismiss the idea immediately so I tested a set of various crafted pieces of medium armour from both the level 60 August set as well as the new Mirkwood crafted set and went to the 'Moors. My experience had a lot to do with feeling as I didn't run the combat logs, but regardless of the very viable medium wearing Minstrel in PvE, I have come to a personal conclusion that the Radiance sets are the best choice for a Minstrel in PvMP. This is something I feel very strongly about in my desire to see changed for the Minstrel.
To see the previous test done on light vs. medium armour, click here.
----- ~~ ----- ~~ ----- ~~ ----- ~~ ----- ~~ ----- ~~ ----- ~~ ----- ~~ -----
Gear Suggestions for the Casual Gamer
Too casual to get the raid gear? Here are some good alternatives.
If the radiance gear and jewelry drops from the end-game instances is out of your reach, you still have several options in front of you, one of which is re-opening up the medium armour option. However, comparing piece by piece, I would still recommend going with light. Below are the pieces I recommend. Some of these may still require some grind, but it's all achievable either solo or fellowship instances in Moria.
Legs/Helm/Chest/Shoulders/Boots: Resplendent Lothlórien (Acquaintance Standing with Galadhrim - Crafted)
Gloves: Tawarwaith Gloves of Power (Crafted)
Shield: Curuthan (Acquaintance Standing with Malledhrim - Barter Emyn Lum)
Ring: Ranger's Greenwood Ring x 2 (Crafted)
Bracelets: Sages Greenwood Bracelet x 2 (Crafted)
----- ~~ ----- ~~ ----- ~~ ----- ~~ ----- ~~ ----- ~~ ----- ~~ ----- ~~ -----
Class Skills to Utilize in PvMP
Highlighting specific skills that will be of extreme benefit to you in the Ettenmoors.
Offensive
Ballad of Resonance: A tier 1 ballad, this should be active as often as possible. Should you choose to follow the class trait line I've suggested, you'll find that additional 20% tactical damage will really add up.
Piercing Cry: This skill is able to be used both as an obvious offensive skill as well as a defensive skill, quickly tossing a stun on an opponent currently attacking the target you're selecting to heal, allowing for some breathing room to top their morale off. (Note: Unrelenting must be traited to allow for your chance at a stun.)
Echoes of Battle: A great tool to be able to keep someone in combat, tossing an Echos of Battle on a Reaver or Stalker prevents them from using their out of combat skills until they've backed out of range while gradually working down their health. Be sure to use Ballad of Resonance before applying your swords as it will work to increase the damage for the duration of the swords.
Defensive
Cry of the Valar: The Minstrel's best friend, use this skill as often as possible on various targets that each situation may require. In sustained battles, it's great to use against that Blackarrow destroying your morale or that Warg you spotted crawling their way up to you for a pounce and in small group encounters, it's a vital tool to remove the healers from the fight allowing your group to take out an opponent quickly. Be sure to avoid using it on a charging Reaver as they are immune during that state.
Still as Death: This skill's function is different in PvMP since your opponent has free will and ignores things like agro level. Once feigned, you become un-attackable but they clearly don't automatically start attacking something else unless they choose to. I often most use this as a means of holding the attention of a raid of Creeps while the rest of my group works on an escape, however if you're lucky you'll be able to use it as a means of holding the attention of some Creeps while your group comes to your aid. Either way, use it as often as you see fit, occasionally even to drop NPC agro.
Lay of the Hammerhand: An extremely important skill for the Minstrel survival, it is of absolute importance that you do not wander around with this active. It is removed with a simple stun so toting it around isn't going to do you any good. One of the best times to use it is if you're fighting a Reaver. They have the ability to hit you with a Devastating Strike once you're below half health so if you pop your bubble up at the right time, you'll be able to outlive them and make it through that attack. Once out of harm's way, immediately turn it off allowing for your cooldown to start working.
Enhancements
Tale of Battle, Tale of Warding or Tale of Heroism: Truly will vary based on the different situations you're in but as I'm looking to maximize my morale and wound resist is always a good thing, my choice is Tale of Battle. There are a lot of classes running out there with capped vitality, however so Tale of Warding will be more beneficial for them and if you're running as a raid healer, you may see more benefit to Tale of Heroism. Again, it's going to be situational.
Gift of the Hammerhand: Be wary of who you place this on and don't forget to let them know you've used it as it will deplete their power pool rather abruptly. Due to the depletion of their power pool you generally only want to use it in emergencies where you feel your heals will not keep up and if you don't use it, they will die.
Call to Greatness: I find this is best when used on yourself as it increases your heals by 10% and decreases the Cooldown to Chord of Salvation to only 5s. Use also on Captains during sustained fights where their on-defeats will provide the fellowship with some morale and power. It's best use is before using Fellowship's Heart.
Healing
Chord of Salvation and Soliloquy of the Spirit: Most heals are going to be obvious but this duo is often overlooked as a set. We all are well aware of the root that's forced when using Chord of Salvation, but when used in conjunction with SoS immediately after, that root is lifted and you're able to move once more. As this is a PvP zone, you will find yourself constantly on the move and since we cannot heal while moving, I find using these two skills (in that order) make a good difference. Keep in mind that the power cost per morale healed by using Chord of Salvation is the worst of all our heals so don't just toss it non-stop or you're going to deplete your power pool faster than you can say "Where's a Loremaster when you need one?!"
Fellowship's Heart: This skill. . . is amazing. Seeing as it's on such a long cooldown, I wouldn't recommend using it very often and instead saving it for those times you'll really need it. My favorite time to use it is in conjunction with Lay of the Hammerhand in small group fights where I'm under attack and starting to go down. I'll toss FH then drop with the feign, healing up to full as I lie there, confusing the Creeps with indecision and my group starts to slaughter them.
----- ~~ ----- ~~ ----- ~~ ----- ~~ ----- ~~ ----- ~~ ----- ~~ ----- ~~ -----
Options Menu, Quickbars and UI Layout
Options > Adv Graphics
The only option here I'm going to bother mentioning is...
Player Crowd Quality: Lower this on your bar as far as you'd like to lower it (all the way even!) to increase performance in the heat of big battles.
Options > Combat Options
Generally speaking, by the time we come to the 'Moors on our healers, we have all these sorted out but if you're not used to playing in a large group type environment you may be missing a few of these options that will help you immensely in the long run. I personally run with all combat options checked save for "Auto Move to Target" which I never use. I'll go down the list of Combat Options, pulling out a few to explain.
Auto Target Enemies: Should you have no other target selected, this option will select the next target to attack you. This is great for when you're getting hit from range but looking across the sea of enemies, you can't pin point which one is responsible. Hit escape to de-select your current target and wait for that next hit to select the foe that's attacking you. Then toss off a Cry of the Valar and continue on doing your job.
Enable Skill Target Forwarding: This feature allows you to have a foe selected and use your non-damaging abilities forwarded onto the target that foe has selected. Meaning if you select a Blackarrow, and that Blackarrow has your friend, Bob targeted, you can heal Bob through the Blackarrow. As a raid healer, this tool is invaluable. It will also allow you to select Bob and attack his target, the Blackarrow through him.
Directional Selection Indicator: With this active, you will see a dotted red line going from your character to your selected target. This is great for finding both your comrades and your enemies.
Show Assist Window: Any good fellowship/raid will have target assists set-up. These are people that will be selecting the target for the rest of your group. It is very much a non-negotiable feature to have turned on for any individual that will be joining a group.
Options > Social Options
These options are generally left at their default setting, aside from a few I'll be speaking about below.
Raid Vital Class Colour Location: The three options here will be personal preferance, but play around with how your screen looks to find the one that suits your playstyle best.
Show Companions in Raid Vital Windows: If you're going to be a Raid Healer, I'd recommend unchecking this option. You already have enough on your screen to worry about, getting rid of the Loremaster's pet puppy Fifi's vitals will go a long way to easing your visual chaos.
Show Dispellable Effects Only: This is unchecked by default, but one of the features all of my Characters, whether level 2 or 65 now run with selected. Turning this on removes all the character states that you can't do anything about leaving you with only removable combat states like removable poisons, wounds, etc. Your own character will remain unchanged, however so don't worry about that. Should you be concerned about not being able to see active tales or heals on your fellowship, you can always select the next option.
Show Effects Cast By You: Check this box if you have selected to show dispellable effects only but still want to see when things you do to a target are active w/out needing to select them.
Quickbar Layout
I'm a keyboard user and move with WASD so my frequent keys are 1-4 as well as SHIFT 1-4. I infrequent the CTRL and ALT keys, but have them stacked upward from the skill on the baseline (noble cause above herald's strike, etc.) I have tried using the mouse to move but seeing as we cannot select all 24 members of the raid with the keyboard, the mouse is entirely too busy clicking on health bars to be able to double as my movement.
My heals are all at the other end of the Keyboard because I use my left hand to select group members with the F-keys and that leaves my right hand open to select the heal (find the easiest finger to use is my index and that rests on 0 [Bolster]). I alternate Ballad 1 - Ballad 2 - Ballad 1 - Ballad 2 (Ballad of Resonance always being thrown first for the addition to tact. damage) and then stack Ballad 3s and Anthems up sorted by the frequency of use.

To view my full screen as chaotic as it can get, click here.
----- ~~ ----- ~~ ----- ~~ ----- ~~ ----- ~~ ----- ~~ ----- ~~ ----- ~~ -----
Minstrel Tips for Minstrels
Tips given by Minstrels for Minstrels
Thick Skin: Don't Leave Home Without It!
Don't listen to the whiners in your raid that are complaining that you're not healing them ~unless~ it's another Minstrel. What they fail to see is YOU are not only target #1 but life saver #1. It's a tough slot to fill and you need to think about yourself first as that's the only way to provide support to your group. Also, feel free to speak up and tell the whiners to pipe down. The less aggravation they give you the more relaxed you can be and the better you'll perform.
The Bubble is Not a Fashion Statement so Take it Off
SoooOoOoOoO many times nowadays I see Minstrels running around with their bubble up. I'm not sure how they EVER thought this would be a good idea, but it's not. Lay of the Hammerhand is easily removed by either a Silence or a stun, and the ease by which a stun is delivered to a Minstrel, it's basically going to be a waste of one of our only two escapes. And be sure you tell the Loremaster when you hit the bubble so that they can provide you with power as yours drains helping you keep up even longer as well as a stun immunity which prevents you from losing the bubble due to a stun.
A.D.D. = Win so Keep on Your Toes
In PvE, it's best when the Minstrel holds still so that those in their group can better do their job of pulling aggro. This, however is NOT PvE. The mobs have brains and regardless of how well those brains work, even the dumb ones know to hit a target holding still. The best thing you can do for your own survivability is to not be a victim and hold in once place. Move around your opponents and make them work for their dinner.
Know Your Limits and Stick Within Them
While it is very fun to play dangerously, you need to take a look at your surroundings and see if now is the appropriate time. I received a lot of recognition off my Minstankion™ tactics, but what is easily missed is how often I actually took on the role of a Minstrel. If you want to live on the edge, you have every right do so, but you need to let your group know that is what you will be doing. If I'm in a group and I expect to go into crazy Ophy mode, I make sure they are aware that their health is not my priorty... it's only fair for you and them.
War-Speech is Not for the Weak
Since the addition of the 10 second no-mans-land when removing War-Speech I have found it best to only put it on in specific situations including a) when you're soloing or small grouping and are filling the role of DPS b) when you are alone and traveling around the map or c) when you don't care about being a healer. There is a definite feel to the toggle of the skill so if you are confident in your ability to out perform, then go for it, but with the increased combat speed and decreased Freep durability, I'm much more comfortable out of it.
They Need You More than You Need Them
Okay, while that statement alone may not be entirely true, the idea behind it still is. Leave the raid if after asking time and time again, you are not being protected. Seriously. And you aren't obliged to give notice unless you are feeling charitable; just leave and call for a raid that will protect you.
It's a Game of Cat and Mouse, and You Don't Want to be the Mouse
Traps, tar, traps, tar, traps, tar. Learn them, love them and don't be shy when asking for them to be placed down. It will often be the difference between a surprise attack that leaves you dead and a shout out that you're under attack for a quick defense.
You're Not on the Cheerleading Squad so Don't Stand By the Banner
That banner dropped by the Warleader is your worst enemy out there. Even if you drop out of combat, most Minstrel's don't have the ICPR to even regen while out of combat at any reasonable rate around that thing. Learn the icon and when you see it on you OR your group members, call out for a move.
The Last to Leave is the First to Die
This is a rule for everyone, but Minstrels in particular need to take special note of it. When your group is mounting up you need to be sure you mount up with them. There's always one more person that could use one more heal but in the end you staying behind or lagging behind will result in your death and the death of others. If you are falling behind, say so in voice chat so that your group can take a pause and wait for you.
RED ALERT! RED ALERT! OHZ MY GODZ I'M GETTIN' GANKED!
Announce in voice immediately if you are under attack, you are not asking for help, not asking for favors, you are communicating the situation to the group so they have the opportunity to make good decisions. Granted, keep the panic button to a minimum as if you hit it too often you're going to become the Minstrel who cried "POUNCE!!" and people will stop giving much care to what you say and miss it when you're truly in serious danger.
I'll Scratch Your Back if You Scratch Mine
Notice those who are protecting you and give them preference in healing. It also doesn't hurt to drop a "Thanks!" to let them know you noticed them doing their job. Make it known that you appreciate their efforts and you'll find more people making an effort. If you find a champ that stops what they are doing to drop da bomb on your pouncers, keep that Champ healed! A Champ who sees his or her healthbar *climbing* is a powerful ally.
Rez, Rez, Who Gets the Rez?
Your goal is going to be dropping out of combat to shoot the out of combat rez and save the Rally! for when it's really needed. The priority of rezzes should always be other Minstrels first, then the Leader of the Raid, your Raid Assist Targets, Runekeepers, then Captains, then the rest should be based on usefulness to the group. Always give a quick shout out to your group members to let them know when you are going to drop out of combat and tell them to watch their own health for that time being. Also, call out the target you are planning on rezzing in the case that someone else might also be working on that target.
Front and Center, Soldier!
Standing between the Hunters and the fight is a great place to be if the Hunters are laying traps on you and will re-target when you are pounced. You want to avoid the very front of the line as the dumbed down players will almost always attack what is in the front regardless of what it is, and you want to avoid the back as that's the best place for an ambush to come your way.
I'm Doing My Job, Now You Do Yours
Ask your Captains and Loremasters for buffs when you see them drop off of yourself. Be polite and say thank you as even though they SHOULD take care of this, they certainly don't have to. Captains may give you the ICPR buff, but as it's relatively easy to drop out of combat, you're going to want the Crit buff. In doing this you are not asking for favors, you are doing your job and asking them to do theirs.
----- ~~ ----- ~~ ----- ~~ ----- ~~ ----- ~~ ----- ~~ ----- ~~ ----- ~~ -----
Minstrel Tips for Everyone Else
These are tips to not only help protect your Minstrel but help make your Minstrel and your team more successful.
Don't be Shy... Show Some Love
Being a Minstrel in the 'Moors is hands down the toughest job out there. The easiest way you can help out the Minstrel is just being considerate to them and showing them some appreciation. It may be silly, but a little consideration goes a LONG way to a top notch performance. The less stressed they are, the better they'll do.
Don't Tell a Minstrel What to Do
This rule has several exceptions, but unless you're the leader of the group or you recognize an obvious mistake just keep your mouth shut or send them a tell.
Minstrels aren't going to have all your voices memorized and shockingly *eyeroll* there's a lot happening on the Minstrels' screen so if you need help, toss your name out with it; don't just go "heal me!" [insert link to the I need heals! Blog] and expect a miracle. Also, before you get so conceited to think you can instruct a Minstrel to heal you... take a brief second to look at them and see if they are in trouble themselves.
Shut the Hell Up Already!
All that chit-chat is great if we were on Oprah, but when the action gets tough, you need to keep your mouth shut so you can hear the instructions of the leader and the cries of your Minstrel. Fortunately for me, I'm loud enough that you can hear me even when you don't want to, but for so many others (especially *cough* sorry to generalize *cough* the female Minstrels out there) they get over-talked by people comparing swords and armor stats.
Pre-Define Rules of Retreat and Scape Goats
In a tactical retreat, your Minstrel will be left behind to die if they try to heal those who are close to death. Don't let this happen. Either agree as a group to let those under heavy fire die without hope of a rez or keep the center of the retreat on the Minstrel, stopping when they do. Also, in a retreat on foot, you don't want to turn and run from your enemy as that is not only a giant flashing sign that says "we're losing so feel free to charge us" but it also sets you up for the most damage as you cannot Block from the Back and your Evade and Parry chances are also decreased. It also prevents you from seeing if someone gets webbed or stuck behind. Keep your front to your enemy at all times and pull back as a group.
Yes, We Know You're Uber... Now Give me a Damn Stun Immunity
Loremasters, keep the Minstrels stun resist buffed and keep an eye out for wounds. Because you will likely wind up close to the Minstrel when things get serious, you might keep an eye on them and start stunning when you see the wargs pounce. Keep your tars updated, if the Creeps drop a banner on your tar it is time to move and set up a new base of operations for the healers. Ideally you would have one Loremaster per Minstrel in your group and if that's the case, assign teams to keep close watch on each other. (Note: SI will not prevent a conjunction, but that is no reason to prevent the rest of the stuns as well as the mez from the Weaver.)
It's Totally Safe to Come Pounce Me; I Swears It!
Hunters, invest in some nice traps and Keep those Minstrels surrounded by them. I know it can get expensive, but we all have our expenses to be a team player and this is yours.
Get Off My *** and Riddle Something
Burglars, don't think you're going to get all three wargs when they pounce the Minstrel, at least before the Minstrel dies. Camping the bait is generally a good idea I suppose, but it isn't a survival strategy for the Minstrel. The best thing you can do is get up there in the front lines with the rest of the DPS, dropping back to the Minstrel for heals when you need them and tossing dusts and traited Enrages when you can.
You are a Guardian… Right?
Guardians, you know you love us in PvE so let's see some of that love here! Now we're not asking you to become like the keeper of the Ark of the Covenant and waste away waiting for someone to come try to steal your prize, but we do need you to be available to be at our side when times get the most rough. Use your Shield-Wall especially at those moments where the Minstrel has so many dots they're flying off the edge of your screen.
Captains, you are a Minstrel's savior in the end. Keep them buffed at all times and be sure you stand near them for the absorption and Last Stand. Don't be a jack *** and waste your Last Stand to run up front like a mad man and grab that KB while your Minstrel is in the back getting the **** beat out of them by the Wargs. And Minstrels, when the Captain has this active on you, your job is to get out of harms way and heal yourself first and THEN the Captain. If you can't get a heal off, you know that you need to move. Also, do remember that this protection has a range limit so stay close to their hip.
Don't Be a Dumbass, This Isn't PvE
Champions... ooooh, my dear, sweet Champions. I could go on for days and days, writing sonnets and songs to sing your praises and all the ways I adore you. But I'm not going to. Just be responsible, alright? *smiles*
You Have Green Buttons Too
Runekeepers as a healing class in PvMP are ... amazing. Dpsing is all well and good and as a tactical DPSer you're shining well above the rest, but don't forget that your heals and group saving skills can mean the difference between a full raid wipe and a victory. Nobody is asking you to trait for it, but when you see the need, please stop your zap zap KB grabbing glory work to lend a hand.
Wardens, I have no tips for you. You're so handicapped out there as it is with gambits requiring so much more than your opponents will allow. You can do whatever you like and I'll still give you a big hug afterward. Now, about that date....
----- ~~ ----- ~~ ----- ~~ ----- ~~ ----- ~~ ----- ~~ ----- ~~ ----- ~~ -----
1v1 Encounters
Strategies and tips on maximizing your chances against individual creep classes.
Unfortunately, due to the way the Minstrel has changed over time, we rely very heavily on devastates. With the increase to combat speed and decrease in our durability we're not very likely to out heal/stand a Creep in a 1v1 save for those occasions you're fighting lower ranked Creeps. For this discussion's purpose however, we're going to presume your opponent is a deadly one. That being said, you're going to want to build toward the Tactical Offense build in order to increase your chances in these fights as the balanced build is one with too little of a sustaining power pool. I'd also recommend always running with the out of combat run speed DP buff as well as other DP perks you feel you can afford.
All Opponents
When soloing as a Minstrel you need to put strong emphasis on your strongest offensive skills and think of your defensive skills in a different light. Our greatest strength as a class is our tactical damage which cannot be blocked, evaded or parried combined with our ability to do nearly all our attacks while on the move. Use this to your advantage at all times, practicing your kiting and strafing forcing those you're fighting to out perform you. War-Speech is going to be an absolute necessity since the increase in Creep DPS, as without it, you will not have the morale to outlive the fight.
Regardless of the fight you're in, you're going to want to do two things immediately. The first is Ballad of Resonance and the second is Timeless Echoes of Battle. Never place your Echoes of Battle on your opponent unless first boosting the DPS it will be doing by an active Ballad of Resonance. After that point it's going to be dependent on the foe you're facing but most fights will generally be the same.
After your tactical damage boost and your swords, I'd recommend a cycle of skills starting with Call of Oromë which will set up the rest of your attacks to do more damage as it decreases their light resistance. Immediately after get the advantage off the bat with Piercing Cry followed by your large hits in order of Call to Fate as it has a long cooldown and then Call of the Second Age to not only hit them hard but increase your speed by 10% making it easier to strafe and kite them. After those start your cycle over with Ballad of Resonance making sure to apply Call of Oromë whenever the cooldown allows. The Tier 2 ballads you want to cycle in will be dependent on the opponent and I will highlight those below.
If you are in need of healing, I recommend the following. Drop WS and then use Still as Death allowing for your 10 second penalty to tick down while they are unable to attack you. As soon as you pop up, attempt a Piercing Cry and if that fails or is resisted, use Cry of the Valar. During that time they are unable to attack, heal yourself up. Be sure when you get back to the fight that you utilize Ballad of Resonance and reapply the Echoes of Battle. Once your WS cooldown has expired, use Cry of the Valar before attempting to re-equip it. I can almost guarantee with the increase combat speeds you will not be able to get this buff back on while someone is hitting you.
Three strong suggestions during all fights is 1) pot early and pot often 2) even though it will do very little, Soliloquy of Spirit costs very little power and every little bit helps so toss it when you can, even in WS and 3) use Anthem of the Free Peoples as a means by which to heal yourself. You will also want to, at very least, carry potions that can be purchased at GV to remove stuns and roots.
Blackarrows
Range is to their advantage and out strafing them is to yours. Be to their backs at all times, and should they be able to get a fire dot off on you, be sure to pot out of it immediately. This will be your easiest fight you face as their only defensive ability is meaningless to a tactical class.
Defilers
An extremely tough fight for a Minstrel to win should you not devastate your attacks consistently enough, just stick with them, again moving into close melee range to out strafe and saving disease pots for when you see the Curse of Deadly Sorrows as this will decrease the stats that are most important to you. Instead of spamming Piercing Cry whenever you get the chance like you may in other fights, you need to save both it and Cry of the Valar for when you see long inductions happening. These are your only interrupts so use them wisely.
Reavers
An extremely tough fight for any Minstrel, the two primary things to look out for with these fights are Charge! and Devistating Strike. If the Reaver starts the fight by surprising you in Charge! just work on tiering up your Ballads and Call skills like mentioned above, avoiding Piercing Cry until you see their Charge has expired as they are immune to CC when in this state which also includes Cry of the Valar. Don't waste those skills here as you will absolutely need them later. Distance is going to be your key to success in winning these fights, but provide them with too much distance and you risk them breaking combat and entering Charge! again so the best way to go about it here is by a combo of your stun, Cry of the Valar and Anthem of the Wizards. The last thing to keep in mind in these encounters is when to use Lay of the Hammerhand, which I do recommend you always do in order to protect yourself from their DS which they can do once you are below half health. Don't equip it right as you reach that point, however as you'll need those precious points of power to finish them off before the bubble takes all of it away.
Stalkers
Conjunctions being ignored for the sake of this discussion, entirely too many Stalkers feel confidence in fighting the Minstrel when in my experience, it's one of our best and most rewarding 1v1s. Since the Stalker has a slow it's going to be tricky to put distance between you and them so when they apply it, toss a Cry of the Valar (which by the way isn't removed from an Echoes of Battle already in place so be sure they're on before you fear) and set yourself up as far away as you can while still in range then tier up your ballads and call skills; hitting piercing cry when they are back within melee range to then give yourself distance once more. Carry fear potions to remove the silence the instant it happens, saving Cry of the Chorus for later in the fight where the immunity to silence will be vital.
Warleaders
A fight very similar to Defilers, slow and steady is going to win this one. Time your interrupts perfectly or their power and morale pools will outlast both of yours and if they put down a banner, you have to move out of its range or your damage will be tiny and your power will never replenish.
Weavers
Behind only the Reaver this is the second most challenging fight I personally face as a Minstrel. You're going to find yourself hard pressed to pull out the victor in one of these fights (aside from the always present luck of devastates) against a Weaver that has any idea what they're doing, but there are a few things you can do to work toward a win. Aside from the normal rotation of skills, be sure to include Ballad of the Stout to increase your resistances to poisons and if you are able, save your poison potions for the Hatchlings. If you were unable to remove them and there are NPCs around, run to them and feign death dropping the agro off yourself and moving back to the spider. When a Weaver applies Web the Earth, exchange the duration by hitting them with Cry of the Valar giving yourself time to move out of the web's range and work off the cooldown of the debuff. Do not charge back into the web, let the Weaver come to you.
We were fortunate on the Landroval boards to have some detailed discussion on an encounter between a Weaver and a Minstrel. To read about it, click here and to read the response, click here.
----- ~~ ----- ~~ ----- ~~ ----- ~~ ----- ~~ ----- ~~ ----- ~~ ----- ~~ -----
Small Group Encounters
From duoing to small groups, different ways you can aid your fellowship.
Duos
Should you have the population to allow for it, duoing in the 'Moors as a Minstrel can be some of the most rewarding and exciting play you will find. Due to the balance of skills you bring to the table, with heals, buffs and extremely strong burst DPS you're going to be able to find success with nearly every other class you can imagine. The two that I have found my greatest success with are...
Minstrel + Loremaster: This team is virtually unstoppable. You provide to them what they need (morale and dps) and they provide to you what you need (cc, dps and power.) It's a perfectly complimentary pair. DPS Minstrel + Healing Captain: We could all agree the DPS Minstrel's greatest weakness is their inability to sustain damage while their morale drops from being such a soft target, bu pair them up with a healing captain, with their buffs, heals and fellowship saving escape tools and you have yourself a recipe for Creep slaughter.
While in a duo you're going to want to strongly focus on being in WS to compensate for the shortage of DPS. Chances are you're going to still be the primary target so work on kiting around your partner allowing them to get hits off without having to chase you around like a mad man. Make sure you have a legacy with Triumphant Spirit as this is going to be your fail safe as you're able to keep on the move waiting out your 10 second penalty from dropping WS to then instantly pop yourself and your partner 1500 morale. Continue to use all the tools I mentioned above for soloing, and be sure to save your Cry of the Valar to fear your off targets.
Small Groups
Small group fights are what I feel in this current combat state, are the most challenging for a Minstrel that is trying to represent their class to the fullest in a fight. Because you are a healer you're going to almost instantly be target number 1, however now facing at least 4+ opponents, you're going to be hard pressed to live through the focus fire. The only solution I've found through overcoming this is to start all fights in War-Speech. Stun targets on you in melee range and fear off the ranged classes then AoE through one or two cycles of the skills I talked about above before dropping WS; even if you don't feel you need to. If you're fortunate enough to get a Runekeeper in your small group, I highly recommend you staying DPS and them healing. They have a much easier time healing while on the move and it's going to catch Creeps off guard. They're going to still be focusing on you while the RK is safely zew zewing your health bar up.
You're going to be frustrated... a lot, mind you when running in small groups but boy-oh-boy are those encounters a blast when things just click. Be sure to read the tactic mentioned in the initial post on Fellowship's Heart + Feign as those two in conjunction to small grouping is an amazingly powerful tool.
----- ~~ ----- ~~ ----- ~~ ----- ~~ ----- ~~ ----- ~~ ----- ~~ ----- ~~ -----
Question and Answer
Q&A from all members of the community collected in this thread and others.
If you're the only healer in the raid, 1) can you be successful and 2) how do you prioritize heals? I have found it *really* difficult to heal in raids, hence why I mostly small group. I hate to see people die…even though I know I can't heal everyone. Will I ever get a thicker skin???
1) I hate to say it, but it's damn hard. The time it takes to get a heal off, especially while probably being targeted by at least one Creep is just so long that it's hard to keep people up. I find myself apologizing and just being honest and saying "I'm sorry guys, I just can't heal that fast." As long as you communicate to them, they'll know you're at least trying. The way it actually ends up working for me most of the time is the other support classes try to keep me alive while I dance around like an idiot being focus fired and hope the DPS classes kill something, lol.
2) I prioritize the other healers, the Target Asissts, the Leader then Loremasters. After that it's kinda a crapshoot with Burgs resting on the bottom simply because of escape skills other classes do not have. I'll fully admit that I will also prioritize people that prioritize me. In the end it's not necessarily about the best players, it's about the best one for you becasue the longer you live, the longer everyone lives. I'm sure once you've been doing it long enough the skin will get thicker, but I still hate it when people die. It's bound to happen, but it never (okay rarely ;)) feels good.
In small group situations, do you find you stay in WS longer?
Yes, most definitely. In small groups the Minstrel needs to pick up the missing pieces a bit and that tends to be a shortage of DPS. If you're going to be ganked, you're all going to die and your heals aren't going to do much other than prolong the death. In those isntances, contrary to what your group may think, the best choice is to add to the dps and try to kill before you're killed. I know they like to think dropping WS and putting it back on is as easy as pie, but in the heat of battle that 30s cooldown to requip it and the LONG *** induction is a ***** so it's best to not drop it if you can help it.
At what point do you blow major cooldowns such as Fellowship's Heart or even rally?
Rally I'll spend on another Minstrel or on the raid assist targets if I feel I can't get out of combat but I usually can get out unless we have NPCs which happens a lot where the DPS classes just let them run around while they kill Creeps (which pisses me off, btw.) It's really situational and the cooldown, while an eternity in PvE can actually go by pretty quickly in the PvP setting. I guess all that said, I generally save it for Tyrant fights and then only tanks and/or healers get it. Fellowship's Heart I rarely use. I feel like it's such an incredible skill that I'm always thinking I'll save it and then never find that perfect time to use it. If you feel that staying alive another 30 seconds will make or break your fight then use it, if not then don't. It's the most amazing tool in the Minstrel's skillset yet I rarely get to use it, lol.
I find I *really* like to solo on my minstrel even though I die a lot. Do you ever just want to roam on your own?
My desire to roam on my own doesn't tend to match up with my ability to do it, lol. I love playing solo on the Minstrel because it's such a versitile class but my name tends to carry too much weight anymore, not so much with fame but as an individual that is most likey associated with a raid which means a raid comes in response. When I do solo, I wait on dropping out of WS until it's ABSOLUTELY necessary due to the long cooldown and induction like I already mentioned. Also, carry potions and use those to heal yourself before dropping WS and toss the HoT on even though it's only going to do like 10+ per tick with the WS penalty because it's at least something. I also always purchase the 200 DP run speed buff as well as the 1000 DP out of combat regen buff as they work wonders once you've dropped combat but are still running toward or away from something.
When it comes time to need to heal yourself, drop WS then fear them and then heal. You need to be uninterrupted or it's never going to happen. Also fear them before attempting to re-equip WS. As another solo tip, I tend to take the first Silence as an opportunity to use Noble Cause and Herald's Strike. Never panic and waste skills or pots as Wargs will amost always silence too early anyway. If/when you're silenced again, use the pot and then obviously Cry of the Chorus as a last resort.
If you're in a raid, what are the things you'll be vocal about? For instance, things you need to be successful/protected.
1) Most importantly, I ALWAYS call out when I'm rezzing. My standard line is "dropping combat to rez, watch your own health." I HATE, HATE, HATE when other rezzers dont announce rezzes and I waste time dropping combat when I didn't need to and on the flip side it's CRUCIAL for your group to know that they can't expect heals for that duration and nice for the dead person to know they're getting rezzed, lol.
2) When I can't keep someone up alone like "I need help for so-and-so" or when you, yourself needs help and unlike some Hunters like to think in regard to themselves, one warg pounce doesn't warrant a "HELP ME!" cry, lol.
3) When I can't drop combat due to NPCs; it's so easy for them to forget about the NPCs.
4) When one of my priortized targets is low on health and I'm in the process of healing I'll sometimes let them know so they can keep pushing "so-and-so, heals coming so stay on target."
5) When someone is out of range or when dots are flying all over is probably the second most frequent thing I'll speak up about. I usually have an attitude with this one because it pisses me off, lol. When it gets bad, hold still in one spot and announce "You're all over and my range is shorter than your left leg, so nobody is getting heals unless you come to me." or something like that.
6) When you need stun immunity. I usually try to do this in a sneaky way by thanking them when I get the SI that way they want to remember to give it to you, but that often falls short. I try not to nag so I'll only ask for it if the battle is intense or if I can anticipate a pounce or am pounced and NEED to get up. We don't really need it at all times, and it really is a hassle for them to give out, so try to use that one sparingly. Just as the more pleasent a person is to heal, the more we want to heal them… the more pleasant a Minstrel is, the better they're treated.
So, do you still find your "job" satisfying in the Moors? Are you happy as a healer or are you happy as a battle minstrel? Or maybe both in different situations?
It's hit and miss. The class dynamic has changed SOOO much from where we were initially that I had to adapt and in the end find that I'm somewhat forced to just be a healer. If the group is good (supportive and kind, not necessarily winning), it's a wonderful job but when the group is even just average it's not very fun.
I'm tired of people fighting over KBs in voice chat, I'm tired of bad pushes and bad pulls, I'm tired of NPC agro, I'm tired of no stun immunity and I'm certainly tired of people bitching for heals. It wears on you and in the end, the glory is rarely yours.
In the end this is how I feel….
It won't be your name getting the KB and earning the titles, it won't be your name screamed out on Creep side for how dangerous you are, it won't be you they ask to push a bit harder and get that last hit, but you can guarantee it'll be you they look at when they fail. That all sounds kinda harsh, but the flip side is what's best… like how you'll feel after a fight settles and while everyone else is comparing combat logs and bragging rights, you know deep down that none of it would have happened if you hadn't hit your green button.
There is no greater reward I feel in this game than when I can do my job to it's fullest on Ophy.
----- ~~ ----- ~~ ----- ~~ ----- ~~ ----- ~~ ----- ~~ ----- ~~ ----- ~~ -----
Closing Comments
A few years ago I had written a complete comprehensive guide to being an Ettenmoors Minstrel including, stats, gear, virtues, traits, strategies, etc. Since the changes with Moria I've decided it's time to write another complete guide as it's also time I perfect my build. I am still very much stuck in the old days of SoA so I by no means am presenting myself as the basis by which all other PvP Minstrels should be measured. I do, however get asked on a very regular basis all the information that I've provided here and this will allow for easy reference for curious Minstrels and a means for all of us to grow and learn together.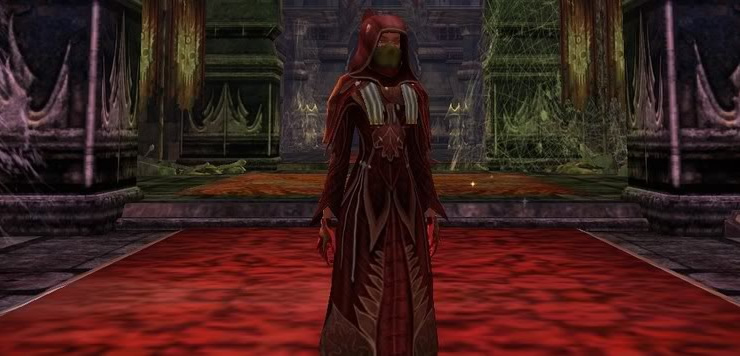 Hugs 'n Pie,
Ophy
Click here to view the original forum thread with the complete discussion on this guide.
You need JavaScript enabled for viewing comments