The Free Peoples' Press 8-3-12
Player Entry

Announcements
Rohan Coverage
The press is buzzing about Rohan. Check out what they have to say!
Community News
If you have community news, don't hesitate to send it to us! Let us know what you're up to! Write an email to lotro@turbine.com, and you just might be featured here!
The Places of Middle-earth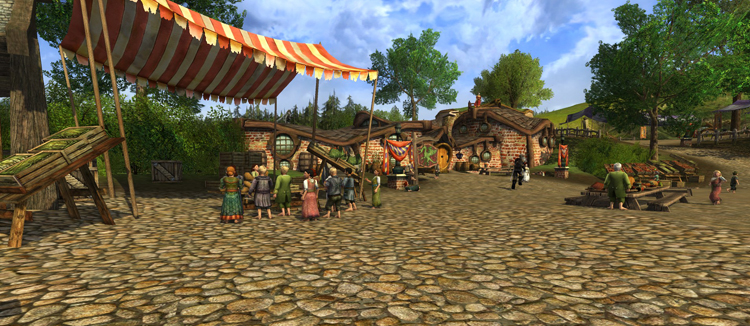 Bywater
The village of Bywater is located In the Westfarthing of the Shire. As its name suggests, it lies along the banks of the Bywater Pool, a widening of the river Water. This river runs from the North Moors, through nearby Hobbiton to the northwest, and on through Bywater to eventually join the Brandywine to the east. A tranquil village, Bywater is perhaps best known for The Green Dragon Inn, a friendly place renowned for great drink, local gossip, and lively conversations with folks from around the Shire. Bywater's post office is one of the busiest in the region, Hobbits being quite fond of sending presents to one another for birthdays, holidays, or just about any other time that seems fit for gift-giving or celebration – which is most days on the calendar.
Bywater is mentioned in the pages of both The Lord of the Rings and The Hobbit. Working from these brief descriptions, the Turbine development team set out to bring life to this lesser-known region of the Shire by creating dwellings and social areas in a style similar to that found in Hobbiton and other nearby areas, while adding elements unique to a region so close to the water's edge. The land of Bywater has been designed with a great deal of greenery, including gardens, trees, finely tended lawns, and other areas of natural beauty and color. Surely this will be a pleasant place to explore and spend time with friends, before heading off into the dangers that await in regions just beyond the boundaries of the Shire.
The lands of Middle-earth are rich and vast. Visit the Places Codex to learn more about them!
If you would like to submit an article please email it to lotro@turbine.com with the subject The Free Peoples' Press--Guest Article Submission.
Community Events
Eldar
Band and Fireworks Show!
When: Saturday, August 4th at 2:00-3:30 EST
Where: The stage outside of our kinship home. The address is number 1 High Road, Heathbourn, Bree Homesteads
Information: The Liege kinship is hosting its 2nd Band and fireworks show! If you wish for a good time with great music and fun, come support our kinship and band! Click here for all of the details.
Landroval
High King's Challenge - Horse Race & Show
When: Saturday, August 4 at 1:00pm server time (EST)
Where: Meet at Tinnudir in Evendim.
Information: The first event is a horse show, a mounted fashion contest. The audience will vote for the winners. The second event is a cross-country endurance horse race through "Evening Twilight". The finale is a party with music, fireworks and fun. Click here for all the details!
Symphony of Light
When: September 22. Activities begin 9 p.m. EST
Where: Brandywine Bridge, Stock in The Shire.
Information: Join in an celebration of the most honorable Hobbit, Mr. Bilbo Baggins, late of the Shire, and let dread of these dark times be driven away by an epic excellent display of fireworks and music! Click here for all of the details!
Laurelin
The Songburrow Strollers 4th Anniversary Concert
When: Sunday August 19th, 7:30PM UK (2:30PM servertime)
Where: Party tree, Slighting village, The Shire
Information: In celebration of our formation four years ago, The Songburrow Strollers are thrilled to announce a special anniversary concert, to be held on the very same spot where we first performed. Come join us for food, fun, fireworks and lively hobbit music! Click here for more information.
Nimrodel
Celebrate 5 Years with ASF
When: August 2- 5
Where: Various locations
Information: It is my pleasure to announce that All Shall Fade - A Casual Kinship on the Nimrodel Server will be 5 years old on August, 2, 2012. As part of our festivities, we are inviting the server to participate in a few events. Visit this thread for more information!
Recurring Events
Click here for a complete list of recurring events or click on your server below!
If you have an upcoming community event that you would like listed please send an email to lotro@turbine.com with the subject The Free Peoples' Press--Community Event

Postcards from Middle-earth

Enjoying the Farmers Faire
Today's postcard was submitted by Dimvea of Gilrain.
"I'm Dimvea of Gilrain, a happy level 27 burglar. I have been playing LOTRO for one year now and love this game more than any other. This picture is from Farmers Faire festival in Bywater, Shire. It's great that we have all those seasonal festivals where you can have fun with other players, play amazing mini-games and get some new items!"
Dimvea, thank you for submitting festive image!
Send your postcards to lotro@turbine.com with this subject The Peoples' Press--Postcards from Middle-earth. Be sure to tell us something about your postcard and who you are!
You need JavaScript enabled for viewing comments