The Free Peoples' Press 9-21-12
Player Entry

A special thanks to Fellowship of the Rogues of Brandywine for sharing an image from last week's Barrow-Downs Bolt that we used for the banner today!
Announcements
100% Bonus XP on all monster kills all weekend long! Catch up to your Kinnies or finish up those last few levels before Rohan!
We shared another track from the Riders of Rohan soundtrack, "Urgent Errands" by Chance Thomas. You can hear it here!
Welcome to Hytbold! Joe Barry talks about a new End Game for LOTRO coming with Riders of Rohan. Click here to read his Developer Diary!
The Treasure Hunter Event is available this weekend. You can read more about it in this Developer Diary!
Cooking with Clover
The Hobbit turned 75 today and we celebrated with second breakfast. Clover made holiday sticky buns. Here is her recipe:
2 loaves of frozen bread dough
Chopped walnuts
1 stick of butter
6 oz of vanilla pudding mix (The cooked kind, not the instant kind)
1 Tablespoon of milk
2 Teaspoons of cinnamon
1 cup of brown sugar
Thaw the loaves of dough in the refrigerator. Grease 1 - 9 x 13 or 2 - 9 in round cake pan with butter and sprinkle the bottom with chopped walnuts. Cut thawed bread dough into walnut sized pieces and place in pan. In a saucepan melt the stick of butter add in the pudding mix, brown sugar, milk and cinnamon stir and cook on low until the mixture is smooth and well-blended. Pour over the top of the dough pieces. Cover with plastic wrap and refrigerate over night. In the morning back the pans at 350 degrees for 30 minutes. Turn out of the pan immediately and serve warm.
Community News
If you need a little help with the Treasure Hunt event head on over to CTSM and check out this guide by Ketani.
Cosmetic LOTRO show you how to dress your character to go treasure hunting! Stop by and check out Hymne's newest outfit Precious Things.
A Causal Stroll to Mordor is once again hosting, The Fellowship Walk: A Child's Play Event. Their first walk will take place on September 23, 2012 at 2pm /servertime. You can visit this post for more information or visit their blog for all of the details. Help them reach their goal for an awesome cause!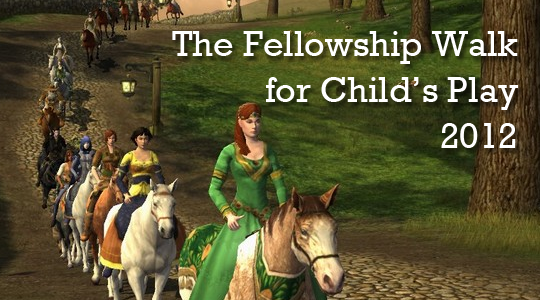 The Places of Middle-earth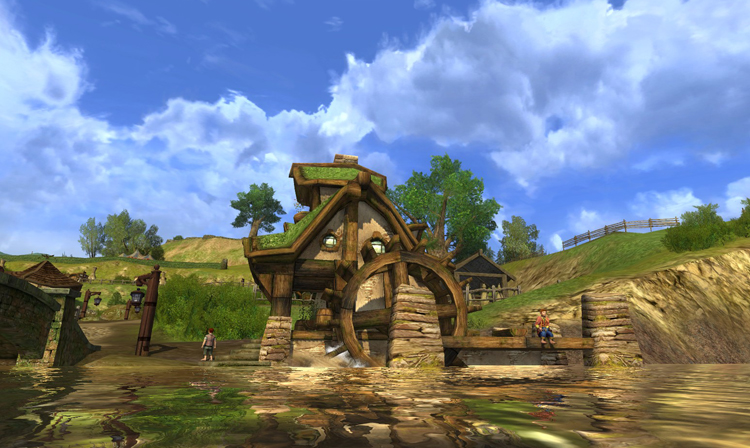 Sandyman's Mill
It cannot be said that Mr. Sandyman, the old and always opinionated miller, is the most liked Hobbit in all the Shire, but the mill in Hobbiton run by generations of the Sandyman family, including Sandyman's son Ted, is nonetheless an important part of the tightly-knit community. Located on the north banks of the Water, the meandering river running its way through Hobbiton, "the Mill" as it is commonly (and simply) known, provides ground corn for the local Hobbits, as well as a pleasant place to sit along the gentle banks to enjoy a relaxing hour or three at the Water's edge.
It is commonly known that Professor Tolkien based much of the tranquil Shire on his childhood memories of the Birmingham countryside of his youth. Old Sandyman's Mill in Hobbiton was no doubt inspired by the Sarehole Mill in this region of England, a simple brick and wood structure, still located to this day on the banks of a tranquil pool. While the Mill found in the Shire is much more centrally located in Hobbiton than the country mill that inspired it, Professor Tolkien's reverence for the place, along with its sense of peace and tranquility, was a feeling the Turbine team felt compelled to capture when creating the Mill for The Lord of the Rings Online™: Shadows of Angmar™. The gently turning wheel is, naturally, its most prominent feature, and the Mill also includes an ample yard for players to meet and converse, as described in the pages of The Fellowship of the Ring.
The lands of Middle-earth are rich and vast. Visit the Places Codex to learn more about them!
If you would like to submit an article please email it to lotro@turbine.com with the subject The Free Peoples' Press--Guest Article Submission.
Community Events
Crickhollow
Estel
Landroval
Maiar
Recurring Events
Click here for a complete list of recurring events or click on your server below!
If you have an upcoming community event that you would like listed please send an email to lotro@turbine.com with the subject The Free Peoples' Press--Community Event

Postcards from Middle-earth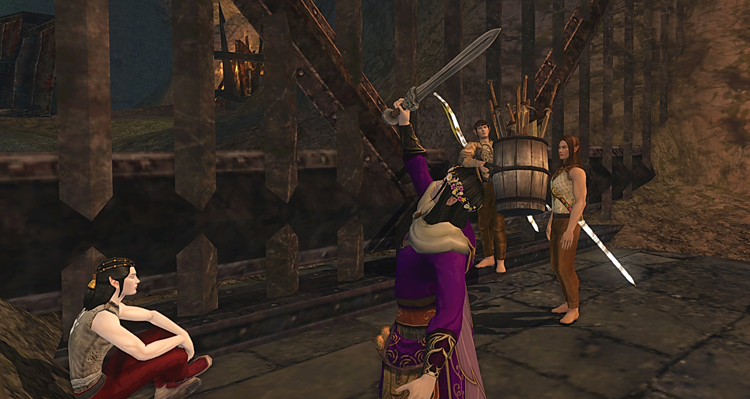 Epic Quest
Today's postcard was submitted by Ellonur from Imladris.
Having been betrayed by Lheu Brenin and taken as captives to Isengard, escape seems much closer for Ellonur, Gwyndir and Valanyonnen when Eledu manages to smuggle a barrel full of weapons past their Orcish overseers.
Ellonur, thank you for submitting this epic image!
Send your postcards to lotro@turbine.com with this subject The Peoples' Press--Postcards from Middle-earth. Be sure to tell us something about your postcard and who you are!
You need JavaScript enabled for viewing comments