The Old Guard
Player Entry
The Old Guard
Server : Silverlode
Founded By : Masota
Founded On :

08/25/2007

Kinship Size :
80
Kinship Type :
Silverlode
All
Casual
Recruitment :
Continuous
Min Level :
Accepting all levels
Achievements :
Cooperation :
Roleplaying :
Events :
Crafting :
PvMP :
Raiding :
Description :
Kinship Leader: Masota
Contact Email: geobug@cox.net
Website: http://tog.guildportal.com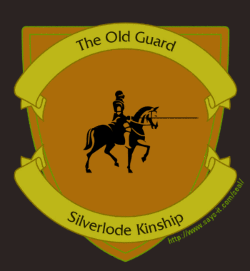 Description
The Old Guard is a Kinship based on the Race of Man, protecting the tradition of Knighthood while standing up to evil and the corrupt. Our Kinship Hall is located in the Bree homestead of Durrow. However, many travelers from far lands have sought refuge with us, and here they stay. They come...the tired and the hungry. These are unsung heroes that become the Beloved.
Offerings
We are a casual group of adult gamers of all ages. Officers are 21 or over. We focus on members helping members and our kinchat is fun & relaxed. We have a small handful of level 50's and we are not* on a raiding schedule. To be honest, many of us still use the LFF channel to hook up with end game dungeons, however we do offer at least 2 or more Kinship events per month and most members hook up for smaller fellowships. Kinchat is often very friendly and on average there are 5-10 people on everyday**. This number fluctuates throughout the year. The Kinship leader is running on Pacific Time.
(*) We are pleased to announce an alliance with The Crescent Order for TOG members to run The Rift raids on the weekends. See our website for details.
(**) Currently The Old Guard's online presence is at an all-time low for the summertime '08. If this concerns you, please discuss this with an Officer/member before you decide to join us during this downtime.
Requirements
Any class, at any level can join us as a Recruit, with no trial period. When you are in-game, just ask for an invite. We evaluate you by observation, keep track of your progress and gently encourage your membership. We realize that great members (including great leaders), come from everywhere! Recruits can remain with us in order to see if our Kin is the right fit. However, to gain the full benefits listed on our website, a Recruit should then seek for a full membership.
We use Guildportal for all means of communication. Recruits who wish to become a Member must register at our website at least one time. On the process of becoming a full member we advise you to post a simple introduction about yourself on our forums. Then follow the remaining instructions to confirm that you wish to stay in our Kinship.
Alternatively, there is no obligation to stay if you feel our Kinship is not for you.
Contact Officers for Recruitment or More Information:
Event Officer: Juniperberry
General Officers: Fawulf, Magdelyn, Tezor, Tuhimli
Program Officer: Nid, Singer of Paths
Raid Officers: Cwenethel, Hyacia
Recruitment Officers: Castle, Masota
---
You need JavaScript enabled for viewing comments